Official Dialogue Feedback to the United Nations 2021 Food Systems Summit
Last updated:
Download PDF
Type of Dialogue
Independent
Convened by
YASIF and UYSG Nigeria
Language of Dialogue Event
English
Geographical focus
Nigeria
Format
Online
Please review the details below for registration information if available or contact the Convenor if you would like to attend.
Description
Nigeria UN Food Systems Summit Youth Dialogue is aimed at bringing together youth leaders and youth led organisations in the Nigerian agri-food business sector to highlight the critical roles and contributions of young people in building a sustainable and equitable food systems for all.
Acknowledgement
US-African and European Business Group SL, Lagos Food Bank Initiatives, YPARD Nigeria, IYS Nigeria and Community Actions on Food Security (CAFS).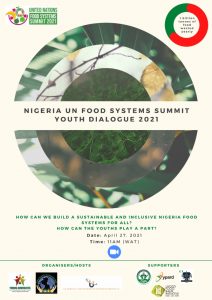 Image credit: Jubril Gbolahan Adigun, Research Director UYSG Lagos Chapter