Официальная обратная связь диалога для Саммита ООН по продовольственным системам 2021 года
Последнее обновление:
Загрузить PDF
Организатор
Institute for Development Policy (INDEP)
Язык диалога
Albanian/Serbian
Дата/время
Начало
Окончание
Город
Tringë Smajli, Prishtinë
Местоположение
Non-UN Member State
Формат
Очный
Просьба ознакомиться с приводимыми ниже данными для получения регистрационной информации, если таковая имеется, или обратитесь к руководителю диалога, если желаете принять участие.
Куратор
Burim Ejupi, Director of INDEP
Описание
Food systems are at the heart of the 2030 Agenda for Sustainable Development and an essential driver of achieving the Sustainable Development Goals (SDGs). Kosovo's food system plays a central role in ensuring sustainable development but is under increasing pressure to respond to numerous and complex challenges to provide healthy, safe nutrition for all. Issues of food production, consumption, food trade, agriculture and animal husbandry as a means of livelihoods, advancing equality and equity for marginalised populations, environmental challenges and building resilience, are all topics that resonate soundly in Kosovo.  Addressing these challenges requires multi-sectoral approaches involving, among others, food, agriculture, health, social protection and education.  
There is therefore a need to transform Kosovo's food system to ensure production and consumption of sufficient, affordable and nutritious food for all, while also conserving the natural resources and ecosystems on which the food system depends. Within this framework, the Kosovo dialogue aims to raise awareness as well as catalyse locally-driven action around the following themes: 
Theme #1: Sustainable food production (—> Action Tracks 3 and 4)

 

Theme #2: Sustainable food consumption (—> Action Tracks 1 and 2)

 

Theme #3: Circular use of food resources (—> Action Tracks 3 and 5)

 
Objective of the Dialogue:  
Promote and share practical experiences and insights to identify common challenges, priorities, and policy recommendations on sustainable food production and consumption;

 

Help coordinate, foster knowledge and align support across different sectors for locally driven and actionable initiatives to advance food systems transformation in Kosovo;

 

Encourage concrete measures and active engagement by all actors of society to contribute towards more sustainable, inclusive and resilient food systems.

 
The Dialogue will be open to participants from all stakeholder groups with an interest in the relationships between people, food and the planet and who are involved in Kosovo's food system, and will aim to promote a concrete call for action, directly influencing global policy and advocacy and ensuring that Kosovo voices will be heard. 
Благодарности
Rockefeller Brothers Fund; Ministry of Agriculture, Forestry and Rural Development; UN Kosovo Team.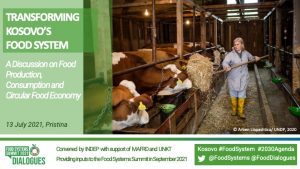 Изображение: Arben Llapashtica/ UNDP