Официальная обратная связь диалога для Саммита ООН по продовольственным системам 2021 года
Последнее обновление:
Загрузить PDF
Организатор
Global Indigenous Youth Caucus, Food and Agriculture Organization of the United Nations & Indigenous United Nations Food Systems Summit Champions
Язык диалога
English, French and Spanish
Дата/время
Начало
Окончание
Город
Rome, Metropolitan City of Rome, Italy
Формат
Онлайн
Просьба ознакомиться с приводимыми ниже данными для получения регистрационной информации, если таковая имеется, или обратитесь к руководителю диалога, если желаете принять участие.
Описание
The Global Indigenous Youth Forum 2021 will establish a space of dialogue between member countries and Indigenous youth representatives to discuss their challenges, priorities and prospects relating to food systems. This Forum results from a 2017 recommendation from UNDESA to FAO through the UN Permanent Forum on Indigenous Issues, which built upon FAO´s work with the Global Indigenous Youth Caucus in 2017 and the Rome Declaration on Indigenous Youth. Indigenous youth are concerned with climate change, traditional knowledge, loss of lands, Indigenous Peoples' food systems, interculturality, suicide, migration and job opportunities among others. The forum will offer an opportunity for policy and decision makers to discuss issues affecting Indigenous youth and thus, contribute to the 2021 UN Food Systems Summit.
Благодарности
Global Indigenous Youth Caucus, FAO, Indigenous UN Food Systems Champions, World Food Forum.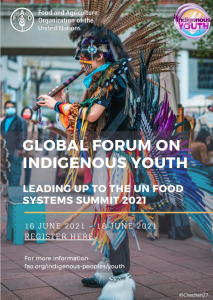 Изображение: FAO