Official Dialogue Feedback to the United Nations 2021 Food Systems Summit
Last updated:
Download PDF
Type of Dialogue
Independent
Convened by
Global Indigenous Youth Caucus, Food and Agriculture Organization of the United Nations & Indigenous United Nations Food Systems Summit Champions
Language of Dialogue Event
English, French and Spanish
City
Rome, Metropolitan City of Rome, Italy
Geographical focus
No borders
Format
Online
Please review the details below for registration information if available or contact the Convenor if you would like to attend.
Description
The Global Indigenous Youth Forum 2021 will establish a space of dialogue between member countries and Indigenous youth representatives to discuss their challenges, priorities and prospects relating to food systems. This Forum results from a 2017 recommendation from UNDESA to FAO through the UN Permanent Forum on Indigenous Issues, which built upon FAO´s work with the Global Indigenous Youth Caucus in 2017 and the Rome Declaration on Indigenous Youth. Indigenous youth are concerned with climate change, traditional knowledge, loss of lands, Indigenous Peoples' food systems, interculturality, suicide, migration and job opportunities among others. The forum will offer an opportunity for policy and decision makers to discuss issues affecting Indigenous youth and thus, contribute to the 2021 UN Food Systems Summit.
Acknowledgement
Global Indigenous Youth Caucus, FAO, Indigenous UN Food Systems Champions, World Food Forum.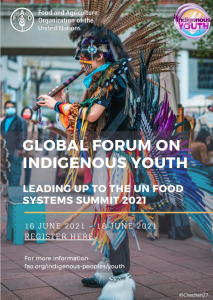 Image credit: FAO