Type of Dialogue
Independent
Convened by
Solidaridad East and Central Africa
Language of Dialogue Event
English
Geographical focus
Democratic Republic of the Congo, Ethiopia, Kenya, Namibia, South Africa, Uganda, United Republic of Tanzania
Format
Online
Please review the details below for registration information if available or contact the Convenor if you would like to attend.
Curator
Solidaridad East and Central Africa
Description
Our Food Systems are Broken. To ensure access to safe and nutritious food for all, We must fix our relationship with nature
The Solution Regenerative Agriculture – Fixing Our Relationship with Nature
Humanity is living the consequences of our broken relationship with nature. We have over-exploited biodiversity to the point of a collapse. In correcting our disconnect with nature is to acknowledge that all natural processes are part of an integrated system of which we are also a part. This entails farming and grazing practices that, among other benefits, reverse climate change by rebuilding soil organic matter and restoring degraded soil bio-diversity – resulting in both carbon drawdown and improving the water cycle. Regenerative/Conservation/climate-smart agriculture uses a set of farming principles to provide food but most importantly a better world, through improving resources.
● Increase biodiversity
● Enrich the soil
● Improve water quality
● Enhance ecosystem services
● Reverse climate change ( including nutrition)
Dialogue Session Objectives
1. To raise awareness on barriers to sustainable food systems (that are in balance with nature)
2. To highlight good practices to support production (in balance with nature) and promote safe and healthy diets
3. To advocate for sustainable practices across supply chains to enhance access to safe and nutritious food
Themes
Production in balance with nature;
● Regenerative agriculture
● The future of food safety and security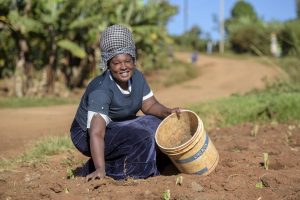 Image credit: Solidaridad