Official Dialogue Feedback to the United Nations 2021 Food Systems Summit
Last updated:
Download PDF
Type of Dialogue
Independent
Convened by
IICA - Instituto Interamericano de Cooperación para la Agricultura // Inter-American Institute for Cooperation on Agriculture
Language of Dialogue Event
Español Inglés Portugués
City
San José Province, San José, Costa Rica
Geographical focus
No borders
Format
Online
Please review the details below for registration information if available or contact the Convenor if you would like to attend.
Curator
Dirección de Cooperación Técnica // Directorate of Technical Cooperation
Description
En las Américas, las empresas cooperativas han evolucionado y llevado adelante iniciativas tendientes a integrar en diferentes niveles al conjunto de sus asociados a procesos económicos y sociales, donde cada persona (capital humano) desde su posición ha podido encarar actividades productivas y / o de servicios convirtiendo las desigualdades en oportunidades de asociación (capital social). El esfuerzo común entre sus asociados, les ha permitido aumentar sus capacidades o calificaciones y han alcanzado un mejoramiento en las condiciones de vida.Una empresa cooperativa que es exitosa en sus negocios, los ingresos de sus asociados, la calidad de vida de sus familias y mejora con el desarrollo de las comunidades donde se asientan, inclusive trabajan en los territorios rurales mejorando las condiciones ambientales.
El desarrollo de las cooperativas en general y las agrarias en particular, consolidando y ampliando su "capital social", ha permitido en el presente posicionarles en los mercados, como un sistema de empresas idóneas para, a su vez, construir "sistemas alimentarios" sostenibles . Estos sistemas, han sabido combinar armoniosamente y en forma simultánea, una serie de funciones económicas, sociales y ambientales, claves para responder a las demandas actuales, tanto de alimentos por los consumidores, como de conductas y buenas prácticas de producción por parte de las sociedades y los ciudadanos.
La Cumbre convocada por el Secretario General de las Naciones Unidas, requiere llegar a acuerdos y consensos que puedan ser plasmados en una "convención" y que a partir de ella puedan ser llevados a cabo por los países, involucrando tanto a los Estados a través de su sector público, como al sector privado, al respecto, las empresas cooperativas, representan: el conjunto de empresas cooperativas, que son en s í mismas, sistemas alimentarios completos y complejos, que componen los sistemas alimentarios globales, regionales y nacionales.
Acknowledgement
Cooperativas de las Américas y REDACOOP.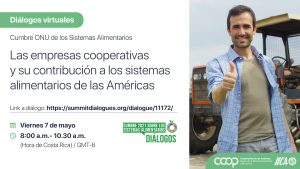 Image credit: IICA