Official Dialogue Feedback to the United Nations 2021 Food Systems Summit
Last updated:
Download PDF
Type of Dialogue
Independent
Convened by
Bibi la Luz Gonzalez - Come Mejor Wa'ik; Escuchemos Guatemala / Nueva Narrativa; Maritza Méndez de Oliva - nutricionista
Language of Dialogue Event
Spanish
City
Guatemala City, Guatemala
Geographical focus
Guatemala
Format
Online
Please review the details below for registration information if available or contact the Convenor if you would like to attend.
Curator
Bibi la Luz Gonzalez - Come Mejor Wa'ik (Eat Better Wa'ik)
Description
Mejorar el sistema de alimentos está presente a todo nivel: individual, comunitario, civil, corporativo y público. En estas épocas de cambio, es momento de mejorar. ¿Cómo lo podemos hacer desde nuestras perspectivas? Te invitamos a ti, a las y los consumidores (o sea toda/os) de alimentos que por derecho todas y todos deben de tener acceso y disponibilidad, y de ser alimentos nutritivos para su salud. Vamos a tocar en este diálogo de forma simultánea y entrelazada las 5 áreas que el UN Food System Summit se enfoca. Por favor ingresa aquí para más información y registro: https://www.waikgt.org/2021/05/03/dialogos-del-food-system/
Puedes registrarte directamente en este link: https://forms.gle/iHT9X9hFsCX94TaF8
Cuando estés completando el formulario de registro, vas a elegir a qué enfoque seguir en este diálogo:
Nutrición y educación
Salud y consumo*
Gastronomía social
Comunicación y publicidad
Agricultura y medio ambiente*
Género, juventud y migración*
Legislación y alianzas público-privadas
Comercio y emprendimiento
Cultura e identidad
Tecnología del futuro de los alimentos
La dinámica y ritmo del diálogo comenzarán con una plenaria (30 minutos), grupos pequeños por enfoque (50 minutos),  resumen de grupos en plenaria (30 minutos); esta primera parte por Zoom. Luego la última media hora entraremos al mundo "mejora-topía" para vivir lo que acabamos de dialogar.
Los resultados de este diálogo serán entregadas a las Naciones Unidas encargadas del Food System Summit (UNFSS) y también se presentarán ante el gobierno de Guatemala, y así incidir doblemente en los compromisos que el país hará ante la ONU en septiembre 2021. Asimismo, a este diálogo se sumó un Davos Lab Dialogues en los grupos pequeños marcados con *, estos también se enviarán a la Comunidad de Global Shapers, para que los resultados de los Davos Lab Dialogues sean presentados en la Reunión Anual Especial de Foro Económico Mundial este año como una ruta hacia un mundo post-pandemia.
Acknowledgement
Maritza Méndez (antes PMA y SESAN); Dr. Ricardo Arriaza (Club Rotario Escuintla / Rotary Guatemala), Sofía Muñoz (Global Shapers Guatemala City Hub); Debora Fadul y José Cal Morales (Diacá Restaurante); Angela Mena (Mr. Menú), Helena Galindo (The Ad Company); Annelisse Escobar (Semilla Nueva), Adonay Cajas (experto SAN); Norma Baján (Maia Impacto); Enrique Lacs (Cámara de Alimentos y Bebidas), María Marta Ramos (Alianza por la Nutrición); Yolanda Mayora (Agexport); Enrique Cay (artista); Pedro Wunderlich (Wakeout); Jeanne Samayoa (Crecer), Allan Ortiz (Escuchemos Guatemala); Lola Molina (Granja del Mercadito de Lola); Celeste Aída Meneses (Come Mejor Wa'ik).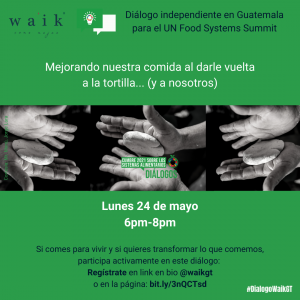 Image credit: Graphic: @bibilaluz @waikgt / Picture @mistermenu @jlarax