Type of Dialogue
Independent
Convened by
Hongcheng Zhou
City
Hangzhou, Zhejiang, China
Format
In-person
Please review the details below for registration information if available or contact the Convenor if you would like to attend.
Description
There is an old saying in China that "A rice porridge when thinking be not easily won, tiny constant reading one's resource is in difficulties". Recent years, China has always attached great importance to food safety and advocated the social practice of "practising economy and opposing waste". Meanwhile, in the new era, China has a group of social activists who are committed to promoting the concept of healthy food ways, which are vigorously promoting the concept of "good food" –We believe that changing the existing eating structure and production mode can actively and effectively delay global climate change, protect biodiversity and improve public health, and better ensure food security and social security under the stable development  of population growth. The idea of "not wasting food", "no one should starve",totally match the green and low-carbon lifestyle we promote in China.
Waste of every grain means the ineffective use of scarce and precious land and water resources. In addition, modern agriculture has strong industrial relevance effect, and related with machinery, electricity, oil and others. Food waste undoubtedly makes nature more bearing and more pollution. In order to better understand the historical tradition of "saving food and against waste" and the modern value of "Good Food Pledge", this dialogue was held.
Acknowledgement
UNFSS-AT2 China Action Hub, Good Food Fund, Jinlian Temple, Institute for Long Wu Tea Utensils.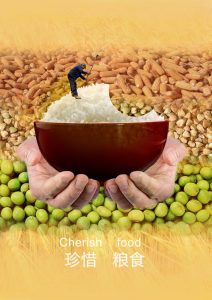 Image credit: anonymous