Official Dialogue Feedback to the United Nations 2021 Food Systems Summit
Last updated:
Download PDF
Type of Dialogue
Independent
Convened by
Ateneo de Manila University and Xavier University
Language of Dialogue Event
English
City
Xavier Hall, Ateneo de Manila University, 2/F, Lungsod Quezon, 1800 Kalakhang Maynila, Philippines
Geographical focus
Philippines
Format
Online
Please review the details below for registration information if available or contact the Convenor if you would like to attend.
Curator
Edgardo Valenzuela, Food Security Advocate/ Core Faculty, Ateneo School of Government/OFSPES
Description
The Ateneo de Manila University and the Xavier University and the Sustainable Development Solutions Network are hosting an Independent Dialogue: Pathways to Sustainable Food and Nutrition, Consumption and Livelihoods. The event will stimulate critical thinking as well as brainstorming with others in academe and civil society and even the private sector to understand issues and search for solutions with the realization that if we are to reach the targets of  the Sustainable Development Goals by the end of this decade we have to start now and in many fronts.
Acknowledgement
Ateneo de Manila University and Xavier University.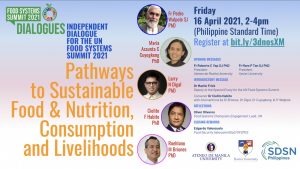 Image credit: Ateneo de Manila University