Official Dialogue Feedback to the United Nations 2021 Food Systems Summit
Last updated:
Download PDF
Type of Dialogue
Independent
Convened by
ProVeg International and Buddhist Tzu Chi Foundation
Language of Dialogue Event
English
Geographical focus
No borders
Format
Online
Please review the details below for registration information if available or contact the Convenor if you would like to attend.
Description
Thematic framing/Summary: 
In this dialogue, our approach is to explore the reasons behind populations' behavior and especially food consumption. The Food Systems of today are unsustainable, leading to deforestation, climate change, destruction of ecosystems, food insecurity, and malnutrition. A transformation in current food systems is urgently needed in order to ensure the survival of mankind and all living beings on Earth. Global leaders must strongly comply with the Paris Agreement on Climate Change to meet its ambitious climate targets. However, in order to make these changes, the public must first be able to accept a fundamental shift in dietary choices. 
The Situation
According to the IPCC, industrial agriculture is responsible for one third of global greenhouse gas emissions. Agriculture uses about 70% of global freshwater and occupies very large parts of land:  It is estimated that around 40 % of the terrestrial surface is used as croplands and grazing lands. In some parts of the world, this represents a significant cause for deforestation. Drivers linked to food production cause 70% of terrestrial biodiversity loss as a result of the growing demand for resources. In addition, as the loss of habitats forces wildlife to move closer and closer to civilization, zoonoses become an increasing concern. Food insecurity has resulted in an epidemic of hunger (especially in the Global South): Prior to the COVID-19 pandemic, almost 690 million people worldwide were undernourished. Meanwhile, in the Global North, more than 70% of the US adult population suffers from obesity or overweight as a result of poor dietary choices and overconsumption, they are therefore more likely to deal with diabetes, heart disease and other health issues.
Why Focus on the Individual?
It is clear that our current food systems are detrimental to our health and wellbeing, destructive to the environment, unsustainable, and inequitable. From the mountains of evidence and research on the inevitable collapse of our food systems, a rapid and abrupt shift in food production and consumption is necessary in order to ensure the survival of life on Earth, if not to mitigate the environmental impacts of food production then to adapt to an environment which has already been drastically altered. This implies a shift in dietary choices–a global shift in a plant-centric diet may be key to sustainability in the near future. Our dietary choices are deeply ingrained in personal identity. Despite the overwhelming evidence that a shift in food systems is not only necessary but inevitable, without public acceptance and consent to this shift, governments will be reluctant to make the necessary policies for change.
Objectives:
To shine a light on the obstacles in food systems transformations.

To evaluate the feasibility of a shift in food systems through policy in time to avert climate catastrophe.

To analyze public reactions to science-based policies through analogies of recent events.

To strategically advocate for food systems transformations while being mindful of the challenges of achieving public acceptance.
In several breakout sessions, we want to investigate what induces behavior change in our diets: 
Culture and Religion

Physiological 

Psychological

Politics

Economy

Environment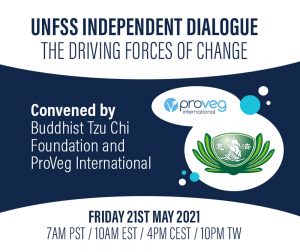 Image credit: ProVeg International