Official Dialogue Feedback to the United Nations 2021 Food Systems Summit
Last updated:
Download PDF
Type of Dialogue
Independent
Convened by
Acción Campesina - Arquímides Farías
Language of Dialogue Event
Español
City
Caracas, Capital District, Venezuela
Geographical focus
Venezuela, Bolivarian Republic of
Format
Online
Please review the details below for registration information if available or contact the Convenor if you would like to attend.
Curator
América Saballo - Acción Campesina
Description
En nombre de la Asociación Civil Acción Campesina, en alianza con la Red Agroalimentaria de Venezuela, les invitamos a participar en el Diálogo Independiente sobre los sistemas alimentarios en Venezuela: Una cayapa por la arepa.
El espacio contará con la participación de representantes de los más diversos sectores interesados en el funcionamiento eficaz de los sistemas alimentarios del país. El objetivo principal de este evento es construir la visión al 2030 de un Sistema Alimentario Sostenible y equitativo en Venezuela, en consonancia con los Objetivos de Desarrollo Sostenible.
Ponencias centrales:
1.Los sistemas alimentarios desde la agricultura de las Américas. Propuesta de temas para su transformación. El caso Venezuela. Miguel Ángel Arvelo. Jefe de Gabinete del Instituto Interamericano de Cooperación para la Agricultura IICA.
2.Diálogos Campesinos: La voz de la agricultura familiar. Jorge Soto. Productor del municipio Andrés Eloy Blanco del Estado Lara. Venezuela.
3. Retos del sistema alimentario venezolano para una nutrición adecuada. Dra. Yngrid Candela. Nutricionista del Grupo Social CESAP e Investigadora del CENDES-UCV.
4. Elementos claves en la dinámica agroalimentaria venezolana. Juan Luis Hernández M. Coordinador de la Red Agroalimentaria de Venezuela.
Acknowledgement
Deseamos agradecer a la Red Agroalimentaria de Venezuela y al Cluster de Seguridad Alimentaria de Venezuela.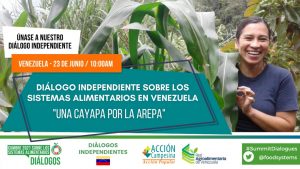 Image credit: Acción Campesina