Official Dialogue Feedback to the United Nations 2021 Food Systems Summit
Last updated:
Download PDF
Type of Dialogue
Intergovernmental
Convened by
Hon. Amelia Afuha'amango Tu'ipolotu, Minister of Health, Tonga
Language of Dialogue Event
English French
Geographical focus
Fiji, Kiribati, Marshall Islands, Micronesia (Federated States of), Nauru, Palau, Papua New Guinea, Samoa, Solomon Islands, Tonga, Tuvalu, Vanuatu
Format
Online
Please review the details below for registration information if available or contact the Convenor if you would like to attend.
Curator
Karen Mapusua, Pacific Community
Description
The Pacific Makes an important, but under recognised contribution to the global food system. Despite this
contribution, Pacific Countries face real challenges in realising equitable benefits from the global food
system. This has implications for the health of Pacific people (in particular, the burden of non-communicable diseases) as well as our environment, livelihoods and the economic development of the region. Climate change and climate-related disasters pose a critical threat to Pacific food systems, and COVID-19 has demonstrated underlying vulnerabilities to other shocks.
The Blue Pacific Food Systems is a dialogue for the 22 countries and territories of the Pacific Community* to catalyse multi-sectorial ideas on Game Changing solutions across 5 Action Tracks for the UN Summit, and identify opportunities for action across Pacific food systems. 
The Dialogue process consists of a scene setting webinar held on May 7th – the recording of the webinar and an Evidence Brief developed to support the Dialogue process can be viewed at  https://www.spc.int/updates/blog/2021/05/pacific-contributes-to-un-food-system-summit , and the Dialogue proper will be held May 20.
The participants will be 
Civil Society & NGOs (farmer groups, women's groups, health, etc)

 

Multiple sectors from national governments

 

Private sector (small and large)

 

Development partners
Academia and researchers

 

Youth groups

 

Church and religious groups 
*Cook Islands, Fiji, Kiribati, The Northern Marianna Islands, New Caledonia, Palau, Papua New Guinea ,  the Pitcairn Islands,  French Polynesia,  Tokelau,  Tonga,  Tuvalu, Niue,  the Marshall Islands,  the Federated States of Micronesia,  Wallis and Futuna, Nauru,  The Salomon Islands,  American Samoa, Vanuatu and Samoa
Acknowledgement
Pacific Community, Pacific Islands Forum Secretariat, Forum Fisheries Agency, UN Agencies in the Pacific, Governments of Australia and New Zealand, Pacific Islands Private Sector Organisation.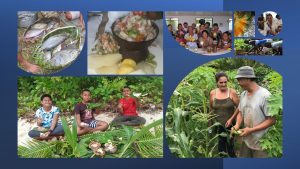 Image credit: Pacific Community