Official Dialogue Feedback to the United Nations 2021 Food Systems Summit
Last updated:
Download PDF
Type of Dialogue
Member State
Convened by
Ruy López Ridaura, Director del CENAPRECE y Convocante Nacional
Language of Dialogue Event
Español
City
Mexico City, CDMX, Mexico
Format
Online
Please review the details below for registration information if available or contact the Convenor if you would like to attend.
Curator
Lizbeth Díaz, CENAPRECE
Description
Primer Diálogo Nacional de México
Cumbre de Sistemas Alimentarios
Jueves 15 de abril 2021,10-12hrs, Vía Webex
Gracias por participar en el primer Diálogo Nacional de México camino a la Cumbre de Sistemas Alimentarios. El objetivo general es que los participantes identifiquen elementos que requieren mayor profundización para contribuir a las vías nacionales hacia sistemas alimentarios sostenibles. A partir de este primer evento, también se busca generar agenda para los siguientes Diálogos Nacionales.
Durante una parte del diálogo los participantes se dividirán en cuatro grupos de discusión: 1) política pública, 2) entornos saludables para la alimentación, 3) producción y acceso a la alimentación saludable, 4) Nivel individual intrapersonal (campaña de alimentación saludable). Por favor sugiere el grupo en el que más te interesaría participar. Haremos lo posible por colocarte en ese grupo, pero dependerá del número de participantes que estén conectados en el evento.
AGENDA
1.     Bienvenida
15 minutos
Dr. Jorge Alcocer Varela, Secretario de Salud.
Dr. Ruy López Ridaura, Director General del Centro Nacional de Programas Preventivos y Control de Enfermedades, y Convocante Nacional.
Lina Pohl Alfaro, Representante de la FAO en México.
2.     Presentación de la propuesta de "Estrategia Nacional para una Alimentación Saludable, Justa y Sustentable para Prevención de la Obesidad".
7 minutosDr. Ruy López Ridaura
3.     Sesión de discusión*a.     Política pública.b.     Entornos para alimentación saludable y actividad físicac.      Producción y acceso a alimentación saludabled.     Nivel individual intrapersonal (campaña de alimentación saludable).
*Los participantes serán divididos en salas virtuales de discusión.
60 minutosParticipantes y facilitadores de grupos de discusión
4.     Retroalimentación
20 minutosFacilitadores de grupos de discusión
5.     Conclusiones
10 minutosConvocante Nacional
6.     Cierre
8 minutos
Acknowledgement
Secretaría de Agricultura y Desarrollo Rural, Comisión Nacional de Biodiversidad, Oficina del Coordinador Residente de Naciones Unidas en México, FAO México, UNICEF México, y OPS/OMS México.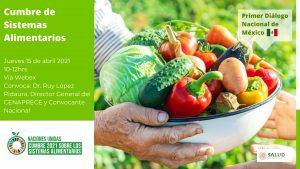 Image credit: FAO