Official Dialogue Feedback to the United Nations 2021 Food Systems Summit
Last updated:
Download PDF
Type of Dialogue
Independent
Convened by
IICA - Inter-American Institute for Cooperation on Agriculture
Language of Dialogue Event
Trilingual simultaneous interpretation will be available (Spanish, English and Portuguese).
City
San José Province, San José, Costa Rica
Geographical focus
No borders
Format
Online
Please review the details below for registration information if available or contact the Convenor if you would like to attend.
Curator
Directorate of Technical Cooperation
Description
Aiming at spreading updated knowledge and proven concepts on the role of grains and oil seeds in the sustainable food system, the Webinar will promote the Western Hemisphere's perspective on sustainable production practices in preparation for the 2021 United Nations Food Systems Summit (UNFSS). In addition to the presentations from internationally renowned experts, discussions facilitated by industry leaders will foster audience interaction.
The webinar content will be published by IICA as a subsidy for technical and policy discussions that would shape IICA Members' and industry positioning towards the UNFSS.
Trilingual simultaneous interpretation will be available (Spanish, English, and Portuguese).
Objectives:
To share current scientific knowledge and expert perspectives on the important role of grains and oils seeds in a sustainable food system.
To explore opportunities and challenges for the future.
Target Audience: government authorities, industry representatives, farmers, academia, and members of civil society from IICA Member Countries.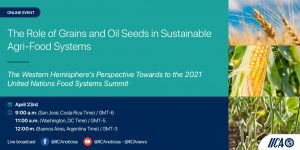 Image credit: IICA