Official Dialogue Feedback to the United Nations 2021 Food Systems Summit
Last updated:
Download PDF
Type of Dialogue
Independent
Convened by
Gibson Susumu - Pacific Community (SPC) & Simon Leiva - Global Alliance for Climate Smart Agriculture (GACSA)
Language of Dialogue Event
English & French
City
Nouméa, New Caledonia
Format
Online
Please review the details below for registration information if available or contact the Convenor if you would like to attend.
Curator
Lufingo Witson Mwamakamba, Regional CSA Alliance Leader - Global Alliance for Climate Smart Agriculture (GACSA)
Description
It is irrefutable that the Pacific region is at the frontline of catastrophic climate change, which is already threatening food security where the majority of the people depend on the sea for food and on subsistence agriculture. Agriculture and tropical fruits are vitally important sectors in the region. The sector makes a huge contribution to the "livelihood of the populace, gross domestic product, and food security".
The Pacific Climate-Smart Agriculture Alliance (PaCSAA), hosted by the Pacific Community in collaboration with the Global Alliance for Climate-Smart Agriculture (GACSA) are hosting a dialogue under the Independent Dialogues Food Systems Summit banner to provide a unique opportunity for PaCSAA stakeholders to dialogue on how the region can strike the balance between preserving vital ecosystem services and maintaining the stability of food supplies whilst fighting poverty, combating hunger and malnutrition, and preserving resilient ecosystems.
The dialogue is aligned to Action Track 5: Build Resilience to Vulnerabilities, Shocks, and Stress. The resilience of food systems needs to be strengthened in such a way that the economic, social, and environmental foundations to produce sufficient nutritious food and maintain healthy ecosystems for current and future generations are not compromised. It demands a comprehensive approach that integrates responses to climate, biodiversity loss, conflict, pandemics, economic crises, food insecurity, malnutrition, and considering poverty, inequalities, and poor land use and distribution as structural root causes of increased hunger. These are critical for delivering the Sustainable Development Goals (SDGs), the Convention on Biological Diversity, and the Paris Agreement.
To register for the event: https://spc.zoom.us/meeting/register/tJwkceiprTIrEtS5i1fS9iscKIHxFWi4bQaN
Acknowledgement
Gibson Susumu (SPC); Fuatino A. Fatiaki (SPC); Simon Leiva (GACSA); Lufingo Mwamakamba (GACSA); Jana Stankova (GACSA).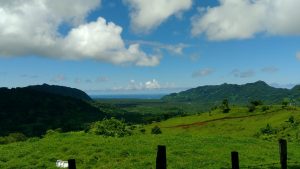 Image credit: Fuatino A. Fatiaki, SPC