Official Dialogue Feedback to the United Nations 2021 Food Systems Summit
Last updated:
Download PDF
Type of Dialogue
Independent
Convened by
Prof. Adipala Ekwamu
Language of Dialogue Event
English
City
15 University Rd, Kampala, Uganda
Geographical focus
No borders
Format
Online
Please review the details below for registration information if available or contact the Convenor if you would like to attend.
Curator
Prof George K.T. Oduro University of Cape Coast, Ghana
Description
To stimulate discussions on capacity development and science, technology and innovation solutions and actions appropriate for agri-food systems for Africa, RUFORUM is reaching out to African and global higher education networks and research organisations for an independent dialogue. The focus of the dialogue is to identify key actions and policies needed to strengthen the African higher education system, agricultural research and development towards an improved African food system that is inclusive and sustainable.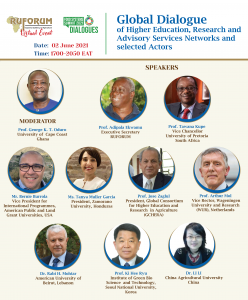 Image credit: RUFORUM Communications Unit