Official Dialogue Feedback to the United Nations 2021 Food Systems Summit
Last updated:
Download PDF
Type of Dialogue
Independent
Convened by
Amanda Katili Niode, PhD - Chair, Omar Niode Foundation and Manager, Climate Reality Indonesia
Language of Dialogue Event
English
Geographical focus
Indonesia
Format
Online
Please review the details below for registration information if available or contact the Convenor if you would like to attend.
Curator
Repa Kustipia, Junior Gastronomist, Gastro Tourism Academy
Description
Consuming local traditional food is healthy for the planet and for human beings. It also improves the economy of a region, supports farmers and fishers and reduces greenhouse gases in the food supply chain.
Communities can promote sustainable food consumption and production by supporting local farmers and fishers, trying local foods, preserving culinary traditions and avoiding leftovers.
Sobat Budaya, a non-profit organization in Indonesia, that is digitally recording varieties and recipes of Indonesian dishes, said that currently there more than 35,000 types of traditional Indonesian food and drinks across the archipelago and the number is still counting.
This independent dialogue supports Action Track 2 (Shift to Sustainable Consumption Patterns) of the United Nations Food Systems Summit 2021, through the following objectives:
Identifying the variety of traditional agriculture practices and food that protect the environment and human health.
Seeking solutions for a healthy and sustainable diet and consumption based on traditional culture
Empowering consumers to choose from and access traditional foods that are healthy and sustainable
Acknowledgement
Youth Leadership Camp for Climate Crisis 2020 - Food Systems, organized by Climate Reality Indonesia and Pangan Bijak Nusantara.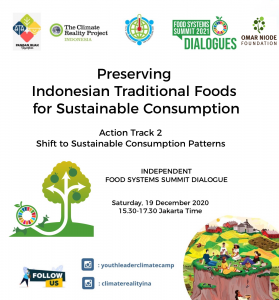 Image credit: Climate Reality Indonesia