Official Dialogue Feedback to the United Nations 2021 Food Systems Summit
Last updated:
Download PDF
Type of Dialogue
Independent
Convened by
Md. Jubaer Rashid, Country Representative, ICLEI South Asia
Language of Dialogue Event
Bengali, English
Geographical focus
Bangladesh
Format
Online
Please review the details below for registration information if available or contact the Convenor if you would like to attend.
Curator
Ms. Bedoshruti Sadhukhan, Senior Programme Coordinator, ICLEI South Asia
Description
ICLEI – Local Governments for Sustainability, South Asia (ICLEI South Asia), and Food and Agriculture Organization (FAO), Bangladesh, in association with Dhaka North City Corporation (DNCC), and Dhaka South City Corporation (DSCC), is organizing an Independent Summit Dialogue titled "Multi-stakeholder food dialogue, envisioning a sustainable urban food system, Dhaka city". The dialogue will be held between 16 to 20th May 2021, virtually due to Covid-19 prevention protocols. The dialogue is expected to provide a shared platform to the city of Dhaka and relevant local actors to voice their vision for a sustainable urban food system at the UN Food Systems Summit in September 2021 and pre-summit in July 2021.
This multi-stakeholder dialogue will focus on linking Dhaka city's vision of a sustainable urban food system to the five action tracks of the UN Food System Summit 2021, which are: AT1) Ensure access to safe and nutritious food for all; AT2) Shift to sustainable consumption patterns; AT3) Boost Nature-Positive Production; AT4) Advance Equitable Livelihoods; AT5) Build resilience to vulnerabilities, shocks and stress.
Based on the outcomes from the previous working group meetings held in consultation with Dhaka North City Corporation and Dhaka South City Corporation officials, the dialogue aims to identify and realise the local and national actors' contribution to the betterment of the city's food system through these action tracks and create opportunities for new actions and partnerships among the stakeholders.
| | | |
| --- | --- | --- |
| Description | Duration | Facilitator |
| Introduction of Participants | 5 mins | Moderator (Organizers) |
| Welcome Speech | 5 mins | Organizers |
| Key Note Presentation | 15 mins | FAO/ ICLEI |
| Breakout and Group Discussion | 45 mins | Organizers |
| Group Presentation | 20 mins | Organizers (Facilitators) |
| Open Discussion | 30 mins | Moderator |
| Speech of Special Guest 1 | 5 mins | GOB/ Academia/ Organizers/ UN |
| Speech of Special Guest 2 | 5 mins | GOB/ Academia/ Organizers/ UN |
| Speech of Chief Guest | 5 mins | GOB/ Academia/ Organizers/ UN |
| Vote of thanks | 5 mins | FAO/ ICLEI |
Group discussions
Group 1: 
Action Track 1: Ensure access to safe and nutritious food for all
The United Nations Food System Summit highlights the access to safe and nutritious food for all. When the national population is increasing rapidly, crop production might reduce by 30% by the end of this century due to the impacts of climate change. In the last few years, national GDP has increased constantly and peoples' income and expenditure have increased by 39 and 40 percent respectively; yet the per capita calorie consumption has decreased by 4.65% during the period of 2010 and 2016. Urban per capita calorie consumption was constantly lower than the rural and national average, which has further reduced to 2130.7 Kcal in 2016 from 2244.5 Kcal in 2010. The consumption of main staple foods such as rice and wheat has also decreased within this time. Another study on urban socioeconomic status has found that 12% of households did not have food, nearly 10% went to bed hungry and 23% households have reduced meal size or consumed fewer meals. The report also states that nearly 40% households in Dhaka reduce food consumption or consume lower quality food to cope up with any shock, especially increased food prices. Experts are pointing at not only the increased price of food items for the drop in overall calories and food consumption but also at the price hike of non-food items and essential services.
The action track also focuses on access to safe food, but studies indicate a high level of food adulteration and unsafe food handling practices in the national and local food system. Dhaka City Corporation in 2004 indicated that more than 76% of food items on the market were found to be adulterated and the level of food adulteration varied from 70% to 90%. The Institute of Public Health (IPH), Bangladesh in its recent testing has also found adulteration in 43 consumer goods. The rate of adulteration is 40% in 30 food items and nearly 100% in 13 items. Consumption of these adulterated and unsafe foods is causing serious health risks. The Directorate General of Public Health reported that nearly three million people suffered from diarrhoea between 2005-2009 and 15% of sick children died in 2011.
Guiding Questions:
While trying to address the immediate issues of food adulteration, poor quality of food and food price inflation, what are the larger systemic challenges that will need to be addressed to ensure access to safe and nutritious food for all in Dhaka city?
Who are the stakeholders that should be involved in addressing this challenge? e.g., Schools, Dieticians, Health Department, food producers, farmers, Private sector etc. How can each of the identified stakeholders better support the access to safe and nutritious food for all?
What role can the local government play in urban food system management to ensure access to safe food for all, especially for vulnerable communities, such as the urban poor?
Group 2:
Action Track 2: Ensuring sustainable consumption patterns
Action Track 2 of the Summit aims to address the issue of unhealthy diets that have become a source of poor health and environmental degradation around the world, with glaring disparities between rich and poor.
A study by the Household Income and Expenditure Survey (HIES) 2016 indicated that, on an average, of the total food expenditure, the urban people of Dhaka spend the highest on fish (18.2%) consumption followed by rice (15.8%) and meat (12.8%). Of this it was observed that the poorest spend close to 31% of their food budget on rice whereas the richest spend about 11.4%. With greater price control and subsidization of cereals and other carbohydrate rich food items, the dietary pattern is imbalanced, with rice and other cereals contributing nearly 80% of total energy and fruits and vegetables contributing only 3%. Another concerning trend is the increase in the consumption of 'fast-food/junk food items' such as chips, soft drinks, noodles, street-food etc., in both the urban rich and poor households. Strategic marketing by large food processors have ensured that these items are relatively cheap. While the rich see this consumption as an addition to their existing consumption of their staple food items, the poor consume these items often as the only source of food in a day or because the facilities and resources to prepare and cook food at home may not be available to daily wage laborers.
Studies have shown that low consumption of fruits and vegetables, sedentary lifestyles, high salt and sugar intake have led to increase in non-communicable diseases such as obesity, cardio vascular diseases, diabetes and malnutrition etc., among the urban population.
Additionally, food loss (i.e., post-harvest losses before it reaches the final consumer) and food waste (i.e., refers to good quality food that is fit for human consumption but that does not get consumed because it is discarded – either before or after it spoils) is a major concern for Dhaka. A recent study by Action Aid Bangladesh revealed that food wastage largely took place at weddings followed by wastage at restaurants and then by households. Subsequent to this, the reality also remains that 21% of the urban households in Bangladesh do not have enough food to eat, with 9.23% of the households in Dhaka go to bed hungry.
Guiding Questions
Do you see a shift in the demand for the kind of food items that are consumed by the residents of Dhaka? Traditional/local food vs fast/junk food? What do you see as the major influencing factors for this shift?
Are there any provisions for monitoring and regulating unhealthy dietary habits in the city and have they been effective? What are the long-term solutions/initiatives that should be implemented in Dhaka to ensure healthier food choices made by the residents of the city?
Who are the stakeholders that should be engaged influencing and implementing these solutions/initiatives and what should be their role?
Is food loss and food wastage a concern for the city? At which stage is there need for maximum intervention?  (retail level or at the consumer level)
What do you see as the solution to this issue, and at the city level what can be done?
Group 3:
Action Track 4: Advance equitable livelihoods
Action Track 4 emphasizes on advancing equitable livelihoods and decent work for all actors along the food value chain. However, the estimated 90,000 to 200,000 food vendors in Dhaka, feeding mega-urban consumers (more than 60%), consistently face adverse working conditions. Due to their illegal status, they are constantly at risk of being evicted, resulting in the alignment of their business to the informal politics of the street that includes bribing local enforcers or police to secure vending spot and somewhat protected from being evicted. Most of the urban street food vendors, small food retailers, food vending hawkers, and fresh market workers work under very poor conditions. A study on street food vendors found that vendors generally work long hours (12-16 hours per day), constant exposure to extreme climate, air and noise pollution, as well as the risk of theft. Most vendors lack basic infrastructure or services, such as access to potable water, sanitation and waste disposal due to limited and no facilities for public use. According to the Bangladesh Labor Foundation (BLF), an estimated 100,000 domestic waste (most of which is food waste) collectors work in Dhaka alone, most of whom are women and children. By working for more than 12 hours a day, and working every single day of the week, they earn only BDT 1,000-4,000 per month.
Besides, most of the urban fresh market workers work under very poor conditions. Studies found, 30% of meat shop workers do not have knowledge of zoonotic diseases, 85% and 90% of them do not wear protective coat/apron and gumboots, and 45% do not know proper duration of washing hands. 27% fish retailers suffer from lesions on hands, fingers, toes, and 10% had diarrhea due to unhygienic and unsafe handling of fishes. A field survey in various vegetable markets suggests that sanitation facility there, is not adequate and in some cases is not present at all. Shop owners do not use existing toilets as they are not maintained properly. A study on meat shops found that 60% and 65% of them did not have toilet and hand washing facility, respectively. 87% of retail fish market workers do not wash hands after defecation. The poor water and sanitation facilities in the fresh markets is not an unknown issue. A field survey in various vegetable markets of Bangladesh suggests that sanitation facility in these markets is not adequate and in some cases is not present at all. Shop owners do not use existing toilets as they are not maintained properly. Sometimes they use the toilets of nearby mosques or have to go back to their houses or wait until the market closes.
Key Discussion Topics
Facilitator should prompt discussion about the challenges and way forward in:
Contribute to the elimination of poverty by promoting full and productive employment and decent work for all actors along the food value chain, reducing risks for the poorest
Enabling entrepreneurship and addressing the inequitable access to resources and distribution of value
Improve resilience through social protection centering climate-vulnerable communities and seek to ensure that food systems "leave no one behind"
Group 4:
Action Track 5: Build resilience to vulnerabilities, shocks and stress
Action Track 5 urges to build resilience to vulnerabilities, shocks and stress, ensuring all people within food system are empowered to prepare for, withstand, and recover from instability. However, studies show that around 67% of the total urban households have no savings, which indicate their level of vulnerability to shocks. Urban households spend 51% of their total expenditure on food, yet they can afford to have only 91.27 grams of vegetables a day and only 35% households can afford to have fruits. This 2019 study further indicated that 12% of the urban households' incidences of shocks in the last 12 months alone due to rise in food prices, while 11% experienced the shocks due to severe illness, medical expenses or income loss due to illness.  A BRAC survey, conducted during COVID-19 lockdowns in 2020, found that 14% of the country's low-income group did not have any food at home. These urban households are not covered by any social safety net programs, as those are chiefly allotted to rural areas. Subsequently, the coping mechanisms that vulnerable households adopt is to eat less and low-quality food to reduce their expenses, which in most cases leads to a high carbohydrate, rice dominated diet
The threat of monoculture in crop production is also a major fact that has affected the resilience of the food production system. Private food standards adopted by supermarkets and consumers have pushed farmers towards particular varieties and management procedures. Reduction in the diversity of crops increase the risk of environmental and economic shocks, such as depletion in soil fertility, drought, pest damage etc.
Guiding Questions
What actions should the city government be taking to ensure greater resilience of the food systems, i.e., ensuring basic food security, provisioning an adequate and stable supply of food and is resilient to shocks (i.e. food shortage, food loss, price volatility). What lessons have been learnt from the national and international lockdown in 2020?
How can the city strengthen the local food supply chain to ensure minimum social, economic and environmental disruptions take place along the value chain? What measures can be taken to integrate effective management of the sustainable food system in regional development plans?
Acknowledgement
ICLEI - Local Governments for Sustainability, South Asia (ICLEI South Asia), Food and Agriculture Organization (FAO), Bangladesh, Dhaka North City Corporation (DNCC), and Dhaka South City Corporation (DSCC).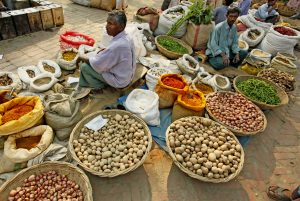 Image credit: pixabay.com