Type of Dialogue
Independent
Convened by
FILAC - Fondo para el Desarrollo de Pueblos Indigenas de America Latina y el Caribe; Red de Jóvenes Indígenas ALC; Jessica Vega, Campeona de la Alimentación
Language of Dialogue Event
Español, Portugués e Inglés
Geographical focus
Argentina, Belize, Bolivia (Plurinational State of), Brazil, Chile, Colombia, Costa Rica, Ecuador, Guatemala, Honduras, Mexico, Nicaragua, Panama, Paraguay, Peru, Uruguay, Venezuela, Bolivarian Republic of
Format
Online
Please review the details below for registration information if available or contact the Convenor if you would like to attend.
Curator
FILAC - Fondo para el Desarrollo de Pueblos Indigenas de America Latina y el Caribe
Description
Las juventudes indígenas asumen la tarea de seguir exigiendo el respeto por los derechos de sus pueblos, seguir caminando en la búsqueda de un mundo para todos y todas en armonía con la madre tierra donde puedan compartir sus conocimientos y experiencias para mejorar la seguridad alimentaria y nutricional del mundo. Las nuevas generaciones son el vinculo fundamental para la transmisión de conocimientos tradicionales de sus Pueblos, son agentes de cambio social y siguen reclamando el derecho a preservar sus sistemas alimentarios propios,  a que no les arrebaten su tierra y territorio, así como sus distintas manifestaciones de reafirmación de su identidad. En ese sentido, el FILAC esta llevando adelante la organización del "Diálogo Regional de las Juventudes Indígenas del Abya Yala en el marco de la Cumbre de Sistemas Alimentarios", con el propósito de generar un espacio de intercambio de opiniones que permita aportar recomendaciones  desde la visión de las juventudes indígenas de América Latina y el caribe para la Cumbre de Sistemas Alimentarios.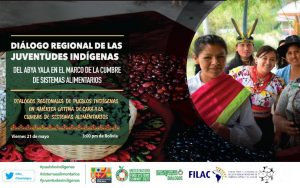 Image credit: FILAC y Red de Jóvenes Indígenas ALC