Type of Dialogue
Independent
Convened by
El Fondo para el Desarrollo de los Pueblos Indígenas de América Latina y El Caribe (FILAC), Programa Emblemático de Mujeres Indígenas (MILAC) del FILAC, Jessica Vega, Campeona Mundial de la Alimentación
Language of Dialogue Event
Español, Inglés, Portugués
Geographical focus
Argentina, Belize, Bolivia (Plurinational State of), Brazil, Chile, Colombia, Costa Rica, Ecuador, Guatemala, Honduras, Mexico, Nicaragua, Panama, Paraguay, Peru, Uruguay, Venezuela, Bolivarian Republic of
Format
Online
Please review the details below for registration information if available or contact the Convenor if you would like to attend.
Curator
El Fondo para el Desarrollo de los Pueblos Indígenas de América Latina y El Caribe (FILAC)
Description
Las mujeres indígenas, tienen un importante papel en la transformación de los sistemas alimentarios actuales, contribuyendo al acceso y control equitativo sobre la tierra, el agua, las semillas, la pesca y la biodiversidad agrícola de los que producen alimentos. Sin embargo, a menudo se subestima su importante contribución a la producción y obtención de alimentos, la gestión de los recursos naturales y su capacidad para obtener ingresos mediante estas actividades. La transformación de los sistemas alimentarios deben incluir un enfoque de igualdad de género.  Un sistema alimentario justo, transformador y equitativo en relación con el género es aquel que permite a los países, comunidades, hogares, y a los hombres y mujeres, contar con lo necesario para producir y tener acceso suficientes alimentos para sus familias y poblaciones a través de procesos sostenibles, positivos para el medioambiente y resilientes al clima.[1]. A través del programa Emblemático de Mujeres Indígenas (MILAC) del FILAC creado en 2008 e integrado por organizaciones y redes regionales, el FILAC promueve acciones en favor de los derechos individuales y colectivos de las mujeres indígenas y la transversalización del enfoque de género en sus programas emblemáticos, por lo que con este evento se busca generar un espacio amplio y diverso de participación para recolectar los aportes y recomendaciones de las mujeres indígenas de America Latina y el Caribe hacia la Cumbre sobre los Sistemas Alimentarios.
[1] http://www.fao.org/americas/eventos/ver/es/c/1390778/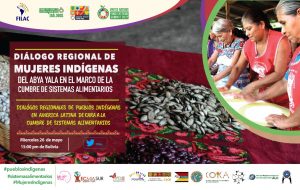 Image credit: El Fondo para el Desarrollo de los Pueblos Indígenas de América Latina y El Caribe (FILAC)