Official Dialogue Feedback to the United Nations 2021 Food Systems Summit
Last updated:
Download PDF
Type of Dialogue
Independent
Convened by
Fatimata Sow Sidibé, Cheffe de Bureau du PAM en Tunisie et au Moroc et Philippe Remy, Directeur Pays de la division Proche-Orient, Afrique du Nord, Europe et Asie centrale au FIDA
Language of Dialogue Event
Français et Arabe
Geographical focus
Tunisia
Format
In-person
Please review the details below for registration information if available or contact the Convenor if you would like to attend.
Curator
Houssem Braiki, docteur en ingénierie de la concertation et de la gestion des territoires et Wafa Kousseni, docteur en économie agroalimentaire, spécialiste des systèmes et filières agroalimentaires.
Description
Le PAM et le International Fund for Agricultural Development (IFAD) en Tunisie organisent un dialogue indépendant sur le système alimentaire à Kairouan. L'objectif est de lancer un processus de réflexion et d'échange pour un système alimentaire durable, inclusif et équitable à Kairouan.
Le dialogue se déroule, les 1 et 2 juin et invitera plusieurs participants de différents secteurs économiques autour des système alimentaires. Les participants débâteront sur les problématiques dans leur région qui impacte le système alimentaire local.
Acknowledgement
Le gouverneur de Kairouan, M. Mohamed Bourguiba, et le coordinateur national du Sommet du système alimentaire, M. Abdelrahman Cheffi.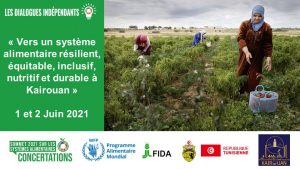 Image credit: Programme Alimentaire Mondial