Type of Dialogue
Independent
Convened by
organisateur: Welthungerhilfe, partenaire: Haut-Commissariat à l'Initiative 3 N
Language of Dialogue Event
Français
Geographical focus
No borders
Format
In-person
Please review the details below for registration information if available or contact the Convenor if you would like to attend.
Description
Les crises multiformes, de plus en plus prolongées à travers le monde, remettent en cause les efforts des Etats et de leurs partenaires dans la lutte contre toutes les formes de malnutrition. Les crises découlent, d'un conflit, d'un contexte fragile, de la violence ou d'un changement environnemental. Plusieurs indicateurs et outils sont utilisés aux fins, i) de suivi de la situation nutritionnelle et ii) d'aide à la Décision.
Entre autres outils, l'indice de la faim dans le monde (GHI), rapport phare de Welthungerhilfe et publié conjointement avec Concern Worldwide sur une base annuelle représente est un outil conçu pour mesurer et suivre la faim de manière exhaustive et pour comparer les niveaux de la faim entre les pays et les régions.
Les thèmes qui seront débattus lors de la conférence sont :
Sous thème 1. Renforcer les systèmes alimentaires durables pour améliorer la santé et la nutrition
Sous thème 2. Systèmes d'information pour la nutrition : comment prendre en compte les indicateurs nutrition sensible pour une meilleure intégration de la nutrition dans les systèmes alimentaires
Acknowledgement
Ministère Fédéral Allemand De La Coopération Economique Et Du Développement, Haut Commissariat à l'Initiative 3 N, Food and Agriculture Organization.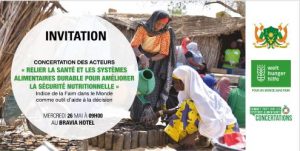 Image credit: WHH-Welthungerhilfe