Type of Dialogue
Independent
Convened by
Ahmad Ashkar CEO & Founder of Hult Prize Foundation, Philip Auerswald Chief Academic Officer of Hult Prize Foundation, United Nations Office for Partnerships, Hult Prize Foundation
Language of Dialogue Event
English
City
Washington D.C., DC, USA
Geographical focus
No borders
Format
Online
Please review the details below for registration information if available or contact the Convenor if you would like to attend.
Description
In this Dialogue entitled "Transforming Food into a Vehicle of Change" the speakers will talk about and engage in the following themes:
Rethinking Food Production, Distribution and Consumption
Asking Why the Food System has Failed on a Global Scale
Envision the Journey of Food for Good
Committing Your Dimensions of Impact
Becoming a Food for Good Pioneer
Current Market Examples
And close with a live Q&A if time and platform allows.
Copy & paste the following link to join at 14:30 CDT (15:30 EST): https://bit.ly/3hEjTfc
Acknowledgement
Hult Prize Foundation, United Nations Office of Partnerships.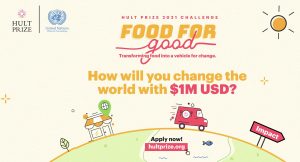 Image credit: Hult Prize