Official Dialogue Feedback to the United Nations 2021 Food Systems Summit
Last updated:
Download PDF
Type of Dialogue
Member State
Convened by
His Excellency Sok Silo, National Convenor and Secretary General, Council for Agricultural and Rural Development and Ms Claire Conan, Representative and Country Director, World Food Programme.
Language of Dialogue Event
Khmer with English translation
Geographical focus
Cambodia
Format
Online
Please review the details below for registration information if available or contact the Convenor if you would like to attend.
Curator
His Excellency Say Ung, Advisor and Director of the Department of Food Security nd Nutrition and Health, CARD
Description
Food safety is one such area that plays an important role in improving nutrition within the broader food system in Cambodia. Food safety is integral to food system from the food production, to processing, to distribution and storage to food preparation and consumption. Food can be contaminated by pesticides, veterinary drug residues, chemicals, bacteria, parasites, and viruses at any stage of the value chain and can lead to serious illnesses and even death in the worst cases.
Food safety is a very complex challenge for Cambodia. The challenges come from both the supply and demand sides. Both imported and locally produced foods have been found to be contaminated with pesticides, chemicals, and biological contaminants. There were reports of violations or misuses of chemical preservatives by food processors or retailers. Bacterial contamination is commonly found in animal source foods, mainly due to the lack of proper hygiene practices. From the demand side, there is still limited awareness on food safety and the demand of safe and nutritious foods is still weak. There is also a challenge from the regulatory framework and control system, the draft law on food safety produced in 2016 yet to be endorsed. Cambodia relies on a Sub-Degree and  various Prakas to regulate the food and beverage industry and enforcement is a challenge under these various orders.
In 2016, there were more than 1,000 cases of food poisoning reported nationwide. The food safety issues have a negative impact on the nutritional outcome especially for vulnerable and marginalized population. The COVID -19 pandemic has furthered highlighted the need to improve food safety in Cambodia.
Dealing with unsafe foods is a complex challenge, requiring a holistic approach that involves every stakeholder to address the issues on the supply side, demand side, and the regulatory framework and official control.
Participants from  business associations, the Chamber of Commerce, food producers, food processors, Agri-SMEs, distributors, retailers and representatives of  government, and development partners will be invited to take part in the discussion. The topics for discussion will focus on the two key areas of food production and food processing.
Acknowledgement
The Council for Rural and Agricultural Development, Ministry of Agriculture, Forestry and Fisheries, Ministry of Industry, Science, Technology and Innovation, World Food Programme, IFAD, FAO and UNIDO, Khmer Organic Cooperative.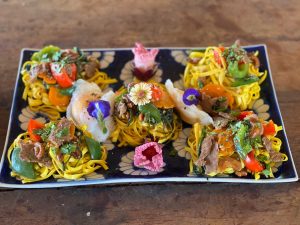 Image credit: @FAO