Official Dialogue Feedback to the United Nations 2021 Food Systems Summit
Last updated:
Download PDF
Type of Dialogue
Independent
Convened by
Netherlands Working Group on international Nutrition (NWGN); Global Alliance for Improved Nutrition (GAIN) and 'JOGG' (Healthy youth, Healthy future)
Language of Dialogue Event
English
Geographical focus
No borders
Format
Online
Please review the details below for registration information if available or contact the Convenor if you would like to attend.
Description
This Independent Dialogue seeks to explore Dutch lessons in employing urban systems approaches to combat childhood obesity. Using these lessons as a starting point, we aim to explore how the Dutch lessons  can be used in other contexts. Further, we invite other local governments and communities worldwide to share their insights on such urban systems approaches. In doing so, this dialogue aims to compile successful lessons in transforming urban food systems to create a healthier youth. Hence, it aligns with Action Track 1: 'ensure access to safe and nutritious food for all'. The insights of this dialogue will inform the Global dialogue: 'Empowering cities and local governments to improve food systems globally' which will take place on June 28th, 2021.  
The Dialogue will be commenced by an initial discussion between Gerda Verburg (Scaling Up Nutrition Movement) and a representative from the Amsterdam Municipality. Further, lessons from the analysis of Dutch systems approaches will be shared to initiate discussions in breakout rooms. Each breakout room will address a specific theme, introduced with reflections of a city network.  Based on the exchanges and discussions from the breakout rooms, the Dialogue will conclude by weaving gained insights.  
If you would like to participate in this Dialogue, please contact us through the 'contact convenor' button below.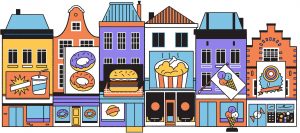 Image credit: JOGG