Official Dialogue Feedback to the United Nations 2021 Food Systems Summit
Last updated:
Download PDF
Type of Dialogue
Independent
Convened by
MOVIMIENTO AGROECOLÓGICO BOLIVIANO
Language of Dialogue Event
Español
Geographical focus
Bolivia (Plurinational State of)
Format
In-person
Please review the details below for registration information if available or contact the Convenor if you would like to attend.
Curator
MOVIMIENTO AGROECOLÓGICO BOLIVIANO
Description
Desde el Movimiento Agroecológico Boliviano "MAB", consideramos que, los sistemas alimentarios insalubres, injustos e insostenibles que definen la actualidad de la alimentación en nuestro país, nos presentan el reto urgente de propiciar su transformación estructural en sistemas alimentarios basados en los derechos humanos, equitativos, inclusivos, sostenibles y configurados en torno a la agroecología y la soberanía alimentaria.
La AGROECOLOGIA porque hace frente a las relaciones de poder desiguales, propicia la propiedad de los recursos, la justicia de género, innovaciones con beneficios sociales y tecnología, además de procesos horizontales de conocimiento, investigación y aprendizaje, incluye adoptar de forma generalizada una producción ecológica de los alimentos que incidirían en cambios económicos y sociales.  
La SOBERANIA ALIMENTARIA, producto de la construcción conjunta de la sociedad para determinar cómo comemos y nos alimentamos; cómo usamos y mantenemos las bases productivas suelos tierra, el agua, semillas y otros recursos en nuestro entorno para el beneficio de las generaciones actuales y futuras; y cómo interactuamos con los demás grupos, personas y comunidades. 
La sociedad civil, está llamada a accionar  y mostrar distintos caminos posibles para construir Sistema alimentarios inclusivos, justos y sostenibles que reconozcan el  vínculo umbilical de la humanidad con la naturaleza, así como las comunidades que se desarrollan en armonía con la Madre Tierra y nos enseñan que otro camino es posible, elevando la visión de la sustentabilidad a otro modelo de sociedad, basado en otras formas de producción y de consumo, en la justicia social, ambiental, económica, política, de género, en la soberanía de los pueblos y en la solidaridad entre los pueblos e individuos.
En este marco, el MAB ha iniciado el proceso de construcción colectiva hacia la transición agroecológica de los sistemas alimentarios. Esta construcción, pasa entre otros aspectos, por lograr una efectiva participación de las organizaciones de la sociedad civil, movimientos sociales, campesinos e indígenas y toda la población boliviana.
En este sentido, el Movimiento Agroecológico Boliviano "MAB" como impulsor de esta acción estratégica, convoca a las diversas redes y movimientos sociales campesinos e indígenas del país, para hacer de la "Cumbre Independiente de Sistemas Alimentarios en Bolivia" espacio de análisis y propuesta de construcción de una Agenda de la sociedad civil hacia la transición agroecológica de los sistemas alimentarios.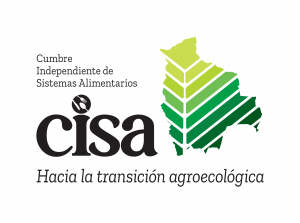 Image credit: MAB