Official Dialogue Feedback to the United Nations 2021 Food Systems Summit
Last updated:
Download PDF
Type of Dialogue
Member State
Convened by
Renato Alvarado Rivera, Ministro, Ministerio de Agricultura y Ganadería
Language of Dialogue Event
Spanish
City
Av. 12, San José, Costa Rica
Geographical focus
Costa Rica
Format
Online
Please review the details below for registration information if available or contact the Convenor if you would like to attend.
Curator
Roberto Azofeifa Rodríguez, Jefe Departamento de Producción Agroambiental, Ministerio de Agricultura y Ganadería
Description
Se enfoca en la línea de acción sobre adopción de modalidades de producción y consumo sostenible, en el cual se aborden las prioridades en el campo de inclusión de mujeres y jóvenes, así como buenas prácticas agrícolas y pecuarias, trazabilidad, comercio justo, agroinnovación, mercados locales; desde las perspectivas de: cadenas de suministro, entornos alimentarios y comportamiento del consumidor.
Acknowledgement
Del Ministerio de Agricultura y Ganadería: Marta Villegas Murillo, Faviana Scorza Aguero y Maikol Sosa Vargas. Del Ministerio de Salud: Cecilia Gamboa Cerda. Del Ministerio de Ambiente y Energía: Luis Rodríguez Ugalde. Del Ministerio de Relaciones Exteriones: Christian Kandler Rodríguez, Guisella Sánchez Castillo, Roberto Gómez Astorga, Carla Sierra Zúñiga. De la Representación de FAO en Costa Rica: Andrea Padilla Arce, Rebeca León Hernández y Fiorella Piedra León.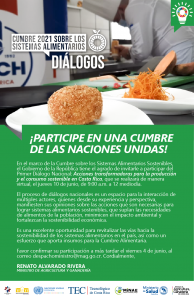 Image credit: M. Sosa; R. Brenes y R. León