Official Dialogue Feedback to the United Nations 2021 Food Systems Summit
Last updated:
Download PDF
Type of Dialogue
Independent
Convened by
Andreotti Federico & Amalia Sacchi
Language of Dialogue Event
Italian
Format
Online
Please review the details below for registration information if available or contact the Convenor if you would like to attend.
Description
Questa sera ore 21:00 siamo live su Twitch per parlare di Food Delivery con @Lorenzo Pirovano, giornalista freelancer. Lorenzo ci guiderà sui temi legati alla gig economy e ci racconterà le vite dei riders milanesi (E vedremo anche un gioco online per provare questa professione in prima persona – Welcome to your GIG: https://bit.ly/2SLhXY3).
Oggi, 31 maggio ore 21:00 live su Twitch, Weekly Seeds
www.twitch.tv/weeklyseeds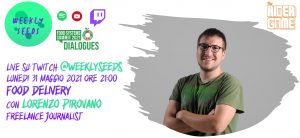 Image credit: Premio Morrone