Type of Dialogue
Independent
Convened by
Luisa Ingrid Abrahamyan, Manuel Barahona, Consuelo Bautista, Ana Maria Muñoz , Rocío Ballesta, Belén Martínez, Karol Ximena Lerma, Lucia Gil, Sara Albiñana
Language of Dialogue Event
Spanish
Format
Online
Please review the details below for registration information if available or contact the Convenor if you would like to attend.
Description
En la Unión Europea, más de la mitad de la población adulta tiene sobrepeso, contribuyendo así a una alta prevalencia de enfermedades relacionadas con malos hábitos y unos costes elevados de sanidad pública.
Es por ello que hemos visto esfuerzos de diferentes gobiernos por crear Etiquetados Frontales Nutricionales (FOPL) mediante los cuales se pretende ayudar a los consumidores a tomar mejores decisiones de compra para cuidar su salud usando, por ejemplo, escalas de colores o señales de advertencia. A lo largo del tiempo, se ha demostrado su eficacia en el cambio de los comportamientos de los consumidores, así como, que la industria alimentaria haya reformulado las recetas de algunos de sus productos apostando por una versión más saludable.
No obstante, existen voces críticas a estos sistemas de FOPL. En concreto, un defecto muy señalado de estos criterios de calificación ha sido el hecho de otorgar a refrescos light la máxima puntuación positiva, dejando en cambio al aceite de oliva virgen extra – histórico producto saludable de la dieta mediterránea- con calificaciones pobres. ¿Qué está fallando?
¿Qué características deberíamos valorar de los alimentos para señalarlos como saludables? ¿Deberíamos restringir el marketing dirigido a niños de los productos calificados como no saludables? ¿Cómo contribuyen las FOPL en la mejora de los sistemas alimentarios? ¿Podrían estas provocar obsesiones o TCA? 
Tenemos que aprovechar esta ocasión en la que los líderes mundiales van a escuchar y tener en cuenta nuestra voz y para ello sentaremos en la misma mesa a diferentes grupos de interés para un diálogo abierto y honesto sobre el etiquetado nutricional frontal.
En este diálogo contamos con la participacion de:
Don Samuel Juárez Casado –  Secretaría General de Agricultura y Alimentación del Ministerio de Agricultura.
Dra. Sofia Boza – Profesora en la Facultad de Ciencias Agronomicas de la Universidad de Chile con su ponencia titulada "Etiquetado nutricional frontal de advertencia: reflexiones desde Chile"
Juan Revenga – Dietista-Nutricionista y eminente divulgador sobre Etiquetado Nutricional con su ponencia titulada ""10 preguntas retóricas sobre el FOPL que se nos viene encima"
Carolina Lejárraga – Psic

ó

loga Sanitaria del Centro Realfooding con su ponencia en la sala de Salud Integral.
Ma Angeles Espinosa Bayal – Profesora del Departamento de Psicología Evolutiva y de la Educaci

ó

n en la UAM, con su ponencia en la sala de Educaci

ó

n Integral
Pero el momento central del evento es en los dialogos entre participantes, se abrirán salas de debate de 8 personas en torno a estos cuatro subtemas de diálogo:
Etiquetando nuestros alimentos,  ¿cómo queremos que sea el FOPL armonizado?

Educación alimentaria integral a través del Etiquetado Nutricional Frontal. 

Etiquetado Nutricional Frontal como herramienta para limitar el marketing dirigido a niños y niñas.

Dieta, Salud integral y TCA. ¿cómo afecta el etiquetado nutricional frontal?
Apuntate rellenando este form:  https://forms.gle/8fpFjVVzV8tVjfbJ9.
Acknowledgement
Equipo Europa.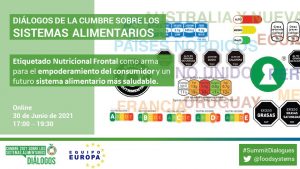 Image credit: Infoalimentos.com