Type of Dialogue
Independent
Convened by
Convención Nacional del Agro Peruano
Language of Dialogue Event
Español - Quechua - Aymara - Inglés
Format
Online
Please review the details below for registration information if available or contact the Convenor if you would like to attend.
Curator
Giovanna Vásquez - Gerenta de la Convención Nacional del Agro Peruano
Description
Diálogo Independiente
El aporte de las comunidades campesinas para los sistemas alimentarios sostenibles resilientes e incluyentes

Introducción y justificación
Los sistemas alimentarios están formados por todos los elementos (medio ambiente, población, recursos, procesos, instituciones e infraestructuras) y actividades relacionadas con la producción, procesamiento, distribución, preparación y consumo de alimentos, así como por los resultados de estas actividades en el bienestar de la población, el crecimiento socioeconómico, la equidad y la sostenibilidad ambiental. En los sistemas alimentarios interactúan estos elementos y actividades a nivel global, nacional, regional y local. En el presente, los sistemas alimentarios están marcados por relaciones de poder inequitativas, la exclusión económica y desigualdad sociocultural; además, la manera en la que las sociedades contemporáneas se relacionan con el medio ambiente hace de los sistemas alimentarios vulnerables y frágiles, pues explotan y contaminan la naturaleza y agotan los recursos no renovables, como el agua y la tierra. Los sistemas alimentarios contemporáneos, entonces, son poco sostenibles, poco resilientes y profundamente excluyentes.
En el Perú, las organizaciones agrarias rurales más importantes son las comunidades campesinas. Son 6,682 y están distribuidas en 23 de los 24 departamentos del país. El área total bajo régimen comunal representa el 49% de la superficie (agrícola y no agrícola) del país. Su población supera los 3 millones de personas. Tienen un papel importante como productores y abastecedores de alimentos y de productos pecuarios, son una fuente importante de puestos de trabajo, son cultores de la biodiversidad, prestadores de servicios ambientales y transmisores de conocimientos ancestrales. Los comuneros y comuneras son mayoritariamente quechua hablantes y aimara hablantes. El 78% de los comuneros y comuneras hablan con más frecuencia el quechua o el aimara, que la lengua castellana. Poseedores de estas riquezas materiales y culturales, sin embargo, las comunidades campesinas se encuentran entre las organizaciones sociales más excluidas del país, en términos económicos, sociales, culturales y políticos.
La importancia material y cultural, combinada con la exclusión que sufren, marcan el papel y posición paradójicas que las comunidades campesinas tienen en los sistemas alimentarios en el Perú. Las comunidades campesinas brindan productos diversos, naturales, y saludables durante todo el año al mercado nacional; además son guardianes de la diversidad y de los recursos naturales, en muchos casos defendiéndolos de agentes contaminantes como la minería, contribuyendo así a la resiliencia y sostenibilidad de los sistemas alimentarios nacionales. Al mismo tiempo, las comunidades campesinas participan en situación de desventaja en el intercambio mercantil, producto de sistemas de comercialización pésimamente estructurados; además, carecen de apoyo de parte del Estado para mejorar su productividad (asistencia técnica, insumos, etc.) y sus condiciones generales de producción (infraestructura de riego, medios de comunicación, etc.). Son, además, ignoradas en el debate nacional sobre el desarrollo económico y social.
Objetivo
El diálogo global independiente reflexionará sobre el aporte de las comunidades campesinas para generar sistemas alimentarios sostenibles, resilientes, e inclusivos en el Perú. Para lo mismo, daremos una mirada al contexto en el que se encuentran las comunidades campesinas, las potencialidades y desafíos que el contexto les impone, y luego compartiremos ideas y experiencias sobre las políticas y prácticas promovidas por diversos actores como soluciones sistemáticas para lograr sistemas alimentarios sostenibles con la participación de las comunidades campesinas.
Metodología
La jornada estará dividida en dos rondas de diálogo, cada una de ellas con sesiones grupales en las que se abordarán preguntas guía. Habrá además una sesión de apertura y otra de observaciones finales. Luego de la apertura, cada ronda de diálogo se iniciará con intervenciones de panelistas que estimularán la reflexión abordando desde diversos puntos de vista los temas a tratarse en cada ronda. Luego habrá sesiones grupales en las que se abordarán las preguntas guía para orientar la discusión conjunta.
Al final de la jornada se tendrá una sesión de observaciones finales que buscarán brindar elementos de síntesis de los diálogos de ambas rondas. Luego del evento se procederá a elaborar un reporte que será compartido a los participantes del evento.
Registrase en siguiente enlace para participar del Diálogo Independiente : https://us02web.zoom.us/webinar/register/WN_h69Q_Df_TB2qkUiIa4cR9g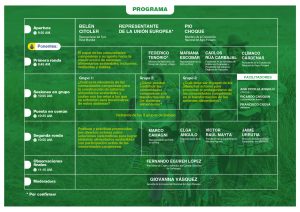 Image credit: Conveagro