Official Dialogue Feedback to the United Nations 2021 Food Systems Summit
Last updated:
Download PDF
Type of Dialogue
Independent
Convened by
Programa Cooperativo para el Desarrollo Tecnológico Agroalimentario y Agroindustrial del Cono Sur (PROCISUR) e Instituto Interamericano de Cooperación para la Agricultura (IICA)
Language of Dialogue Event
Spanish
City
Montevideo Departamento de Montevideo, Uruguay
Geographical focus
Argentina, Brazil, Chile, Paraguay, Uruguay
Format
Online
Please review the details below for registration information if available or contact the Convenor if you would like to attend.
Curator
Secretaría Ejecutiva PROCISUR
Description
La contribución de la región del Cono Sur es estratégica para el logro de los objetivos de la Cumbre de los Sistemas Alimentarios 2021, dada su importancia en la provisión de alimentos a mercados globales, la calidad de sus recursos naturales y la riqueza de su biodiversidad.  Para el logro de estos objetivos, la I+D es un componente esencial, en especial con el actual escenario científico-tecnológico que busca optimizar la gestión sostenible de los recursos integradores de los sistemas alimentarios. El diálogo busca explorar temas estratégicos, sus desafíos y soluciones innovadoras para una agenda I+D agroalimentaria de la región sur, propulsora de la transformación de los sistemas alimentarios, en línea con las 5 vías de acción propuestas por la Cumbre.
Agenda
10:00 a 10:15             Palabras de apertura
10:15 a 10:35              Presentación del contexto de la discusión y documento de referencia "El papel de
la I+D en la transformación de los sistemas alimentarios"                       
10:35 a 10:45             Metodología del diálogo
10:45 a 11:45              Trabajo en grupos
11:45 a 12:05              Plenaria. Presentación resultados trabajo en grupos
12:05 a 12:15              Síntesis y conclusiones
Acknowledgement
INTA Argentina, Embrapa Brasil, INIA Chile, IPTA Paraguay e INIA Uruguay.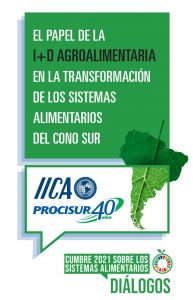 Image credit: IICA