Official Dialogue Feedback to the United Nations 2021 Food Systems Summit
Last updated:
Download PDF
Type of Dialogue
Independent
Convened by
FARA-CAADP-XP4/FANRPAN
Language of Dialogue Event
English and French
Geographical focus
No borders
Format
Online
Please review the details below for registration information if available or contact the Convenor if you would like to attend.
Curator
Dr Yemi Akinbamijo, Forum for Agricultural Research in Africa (FARA)
Description
Food and nutrition secure Africa is crucial for the global accomplishment of the sustainable development goals. The fraternity of the stakeholders of African research for development is well positioned to sensitize the policymakers on the overbearing role of agricultural research for development institutions in the quest for a food and nutrition secure Africa.
Within the context of the Science Agenda for Agriculture in Africa and the CAADP-XP4 institutions, the FARA-led coalition is working with the Science Group of the United Nation Food System Summit. This event is a virtual 2-prong dialogues convened in the context of the UN-FSSD. The goal is to bring together all stakeholders of the One Africa Voice on Agricultural Research for Development and use this as the basis for stimulating awareness at the highest possible level within the context of the Food System Summit.
 The continent needs to have a strategy to make the UN 2021 Food System Summit count through a deliberate concerted strategy for transformative reforms.  The event is planned to be a well thought-out bottom-up coherent game plan that engages local, national, regional, and continental level buys-in with a consistent tenor.
The One Africa Voice will be the inclusive, representative voice of the Agricultural Research for Development fraternity in Africa as well as the elaboration of what must happen to attain the food and nutrition secure Africa and the Africa we want by 2063.
 Partnership
FARA intends to work closely with its regional partners (ASARECA, CCARDESA and CORAF, NASRO and AFAAS), Food Agriculture Natural Resources and Policy Analysis Network (FANRPAN) and the National Agricultural Research Systems (NARS) to achieve this objective. This collaboration seeks to present a strategic platform that fosters continental and global collective actions including networking to strengthen the innovation to impact pathways of Africa's agricultural research and food systems. 
It is our conviction that Africa needs to have a carefully elaborated position at the Food System Summit that is strong, coherent, and consistent.
The main objective of this consultative meeting is to provide a platform for key stakeholders in the agricultural research for development space to discuss salient options for the AR4D mechanisms to strengthen the food system on the African continent. The session will further allow participants to think through how to engineer a repositioning of Africa for the attainment of the SDGs within the decade.
Acknowledgement
PARI, NORAD, CAADP-XP4, FANRPAN.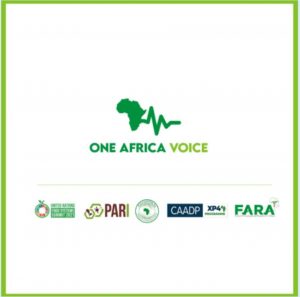 Image credit: FARA