Type of Dialogue
Member State
Convened by
Convenor: Julie K. Tshilombo, Présidence RDC
Language of Dialogue Event
Français
Geographical focus
Democratic Republic of the Congo
Format
Online
Please review the details below for registration information if available or contact the Convenor if you would like to attend.
Curator
Clément Tenge Tenge, Ministère du Développement rural RDC
Description
Distribution
Etats des lieux
Transport : Les voies de connectivité (pistes rurales, voies d'eau de desserte agricole, voies ferroviaires, etc.) ;
Emballage ;
Conservation, Entreposage et Stockage ;
Les acteurs et intermédiaires ;
Vente en gros ;
Vente en détail ; et
Marketing
Analyse des forces, faiblesses, opportunités, menaces et Recommandations
Identifier les différents acteurs ainsi que leurs rôles, activités et domaines d'intervention ;
Identifier les différents problèmes/difficultés/contraintes/défis que les acteurs rencontrent et les hiérarchiser (problèmes/contraintes/défis majeurs)
Identifier leurs causes
Identifier les opportunités qui s'offrent dans le maillon
Définir une vision du futur pour la production durable
Identifier la stratégie qui permettra à atteindre cette vision
Identifier les actions prioritaires à mener pour atteindre la vision
[email protected] https://zoom.us/j/94117536184?pwd=allhNFZrZGlxK01WUjhsRVR4eFVFdz09
Acknowledgement
FAO, PAM, FIDA, AUDA/NEPAD, GACSA.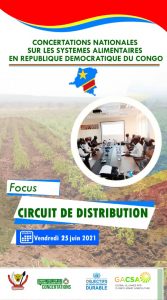 Image credit: DANTIC Ministère Agriculture RDC