Official Dialogue Feedback to the United Nations 2021 Food Systems Summit
Last updated:
Download PDF
Type of Dialogue
Independent
Convened by
Dr. Katharina Löhr (Leibniz-Centre for Agricultural Landscape Research - ZALF), Dr. Harry Hoffmann (Welthungerhilfe - WHH)
Language of Dialogue Event
English
Geographical focus
No borders
Format
Online
Please review the details below for registration information if available or contact the Convenor if you would like to attend.
Curator
Dr. Katharina Löhr & Dr. Constance Rybak (ZALF, Germany), Prof Hettie Schönfeldt (University of Pretoria, South Africa), Dr. Harry Hoffmann (WHH, Germany)
Description
This side event will outline that an integration between traditional knowledge and science is essential not only for scientific progress in food systems research but also for the valuation and preservation of traditional knowledge. It will exemplify how both knowledge bases can be connected on the operational level introducing examples of research or NGO activities. The multiplicity of traditional knowledge including its context specificity (culture, landscape, climate etc.) will be underlined. The existence and strengthening of local research institutions in the global South as key requirement to maximizing the integration potential between traditional knowledge and science will be highlighted.
The side event will focus on the nexus of indigenous knowledge and science with insights from four different continents (Europe, Africa, Asia, and Latin America). The keynotes will present insights on the leading question of how this nexus can be achieved including corresponding challenges. Furthermore, a theoretical framing of the nexus of indigenous knowledge and science will be outlined. Subsequently, the side event will provide four case studies from India, Bolivia, Mali and Tanzania, focusing on selected aspects of food systems in different geographical and cultural contexts. Finally, a guided Q&A session will allow all participants to further deepen their knowledge of this complex issue.
To join, please log in via: https://us06web.zoom.us/j/84316319155 (access code: 405120)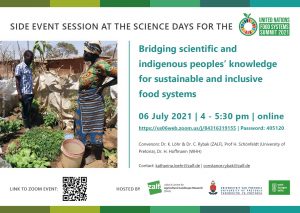 Image credit: Flyer design ZALF/image Dr. Wolfgang Stütz, University of Hohenheim