Type of Dialogue
Independent
Convened by
Mr. Hans Hassle, Good Minds Network / Mr. Mats Rönne, Plantagon International Association / Mr. Shrikant Ramakrishnan, Tirambhapur Askote RAJ Ecosystems Ltd.
Language of Dialogue Event
English
Geographical focus
No borders
Format
Online
Please review the details below for registration information if available or contact the Convenor if you would like to attend.
Curator
Mats Hellström, Former Swedish Minister of Agriculture and European Affairs.
Description
The modern city needs to make food production a natural part of its system. The solution to this problem might be new cultivation techniques. Can urban agriculture help us not only to consume less of the Earth's resources, but also to get new generations involved in work that is crucial to a sustainable future? Living standards, healthcare, sustainability and waste and water management are all issues that concern the population. And these all demand more from the city's development. One of the main benefits of urban agriculture could be that it brings together and combines all of these areas.
Our discussion will focus on this theme:
Is Vertical and Controlled Environment Agriculture Relevant Contributions to Resilient and Sustainable Future Food Systems?
Speakers will cover the following subjects:
Urban Agriculture History – was it always there?
Integration of Urban Ag-Tech in City Infrastructure – can you really mass produce food inside a city at a reasonable cost and in a sustainable way?
Market Platforms – can we integrate producers and consumers in an effective way, and is there a realistic market for locally city-produced food?
Nutrition and Quality of Closed Environment Food Production – is artificially grown food as good for people and planet as organically grown food?
Biodiversity Challenges – does Closed Environment Agriculture support the UN SDG´s?
Consumer Patterns – will people change behavior only to be sustainable?
Financial Opportunities – are the financial players and real estate industry willing to invest?
Acknowledgement
Tongji University, China. National Institute of Education, Singapore. Legacy 17, Sweden.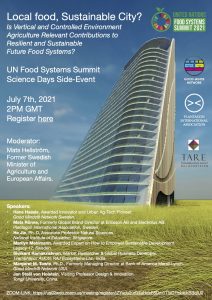 Image credit: Plantagon International Association