Official Dialogue Feedback to the United Nations 2021 Food Systems Summit
Last updated:
Download PDF
Type of Dialogue
Member State
Convened by
Mr. Alisher Shukurov, Advisor to the Minister of Agriculture of Uzbekistan
Language of Dialogue Event
Uzbek; English; Russian
City
88 Амир Темур шоҳ кўчаси, Тошкент 100084, Uzbekistan
Geographical focus
Uzbekistan
Format
In-person
Please review the details below for registration information if available or contact the Convenor if you would like to attend.
Curator
Mr. Tulkin Farmonov, Director of the Research Institute of Agricultural and Food Economics of Uzbekistan
Description
• Innovative technology for higher productivity, reduction of impact on nature in the context of climate change;
• Financing of food production in a transition to more productive and greener agriculture: the role of subsidies, incentives, micro-credit, green bonds;
• Regulations: Government's role in creating/amending policies to encourage greener agricultural practices.
Acknowledgement
Mr. Jamshid Khodjaev, Minister of Agriculture of Uzbekistan; Ms. Helena Fraser, UN Resident Coordinator in Uzbekistan; Ms. Matilda Dimovska, UNDP Resident Representative; Mr. Sherzod Umarov, Assistant FAO Representative in Uzbekistan.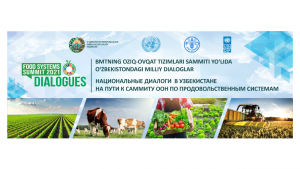 Image credit: UNDP Uzbekistan