Official Dialogue Feedback to the United Nations 2021 Food Systems Summit
Last updated:
Download PDF
Type of Dialogue
Member State
Convened by
Ministro Carlos Leal Telleria, Ministerio del Poder Popular para la Alimentación
Language of Dialogue Event
Español
City
Caracas, Distrito Capital, Venezuela
Geographical focus
Venezuela, Bolivarian Republic of
Curator
Licdo. Daniel Garrido, Cnel Héctor Vallenilla , Ministerio del Poder Popular para la Alimentación
Description
Su objetivo fundamental es afianzar y generar el intercambio entre los diversos sectores relacionados con la preservación y cuidado del medio ambiente, según el enfoque integral, multisectorial, incluyente y ecológico que el estado venezolano establece en las Políticas Públicas vinculadas. Se invita a los participantes a realizar planes de acción, los aportes e ideas propicias para el fortalecimiento de la propuesta del Sistema Alimentario Sostenible.
Entre los temas a revisar se encuentran: Agua como clave importante para la transformación de los sistemas alimentarios y Visión Ecológica a lo largo de todo el Sistema Alimentario, considerando el ambiente como primer medio dador de los alimentos y del agua necesaria para el sostenimiento del sistema que se preserva para garantizar la alimentación saludable a las generaciones futuras
Acknowledgement
Agradecemos a la plataforma institucional, organizaciones comunitarias aliadas y a cada Ministerio participante.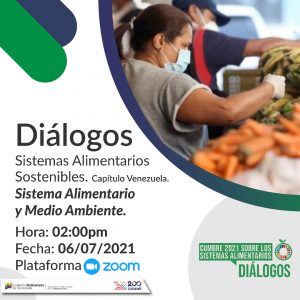 Image credit: MINPPAL-INN