Official Dialogue Feedback to the United Nations 2021 Food Systems Summit
Last updated:
Download PDF
Type of Dialogue
Member State
Convened by
Ministro Carlos Leal Telleria, Ministerio del Poder Popular para la Alimentación
Language of Dialogue Event
Español
City
Caracas, Distrito Capital, Venezuela
Geographical focus
Venezuela, Bolivarian Republic of
Format
Online
Please review the details below for registration information if available or contact the Convenor if you would like to attend.
Curator
Licdo. Gabriel Pérez, Ministerio del Poder Popular para la Alimentación; Superintendente Menry Fernandez, Sunagro
Description
Este dialogo invita a  los diversos sectores  involucrados en producción de alimentos desde el enfoque de cadena de producción agroalimentaria soberana a la revisión, validación  y transformación de las vías de acciones venezolanas propuestas y ejecutadas para  garantizar el derecho a la alimentación saludable del pueblo venezolano,  también representa una oportunidad  para proponer cómo debe estar interconectado  el motor productivo de un sistema alimentario sostenible y de evaluar los desafíos,  desde su producción primaria, transformación e innovación de alimentos de calidad. Entre los temas que se debatirán se encuentran: Producción Agrourbana nuevo paradigma, Agricultura sostenible, Sector Pesquero como componente estratégico, Agroindustria Pública y Privada sensible a la alimentación de calidad, Ciencia, Tecnología y sistemas alimentarios y La Educación Universitaria y su contribución en la construcción del pensamiento para la producción sostenible.
Acknowledgement
Agradecemos a la plataforma institucional, organizaciones comunitarias aliadas y a cada Ministerio participante.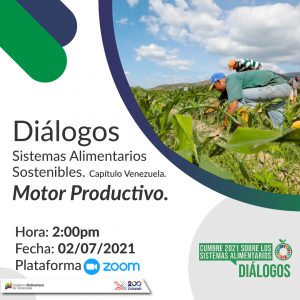 Image credit: MINPPAL-INN