Type of Dialogue
Independent
Convened by
HATEGEKIMANA Jean Baptiste
Language of Dialogue Event
English
Format
Online
Please review the details below for registration information if available or contact the Convenor if you would like to attend.
Description
Food and its entire systems play paramount role in employment, food procurement and environmental and societal lifestyle around which daily decisions are cantered. We want to understand how the food chain presents challenges and opportunities.
As part of the United Nations Food Systems Summit, SAIC is playing an important role to organize the virtual events here in Rwanda to facilitate discussions on the different links in the Food value chains in bid to understand the challenges and identify opportunities vis-à-vis socio-economic context.
Agenda
Welcome introduction
Round of self introduction
Food Systems introduction-Presentation
Open discussion
Brief presentation on the food systems
Interventions from particopants
Conclusion
Recommendation and final remarks
Acknowledgement
Ntiokam Divine, Climate Smart Agriculture Youth Network.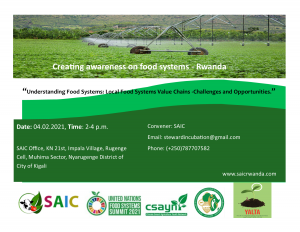 Image credit: SAIC