Official Dialogue Feedback to the United Nations 2021 Food Systems Summit
Last updated:
Download PDF
Type of Dialogue
Independent
Convened by
WorldFish & FAO
Language of Dialogue Event
English
Geographical focus
No borders
Format
Online
Please review the details below for registration information if available or contact the Convenor if you would like to attend.
Curator
Shakuntala  Thilsted, Global Lead for Nutrition and Public Health,  WorldFish
Description
A UN Food System Summit Science Day Side Event exploring transformative solutions with sustainable, healthy aquatic foods for improved food and nutrition security and livelihood outcomes for all.
Date: Tuesday, 6 July 2021
Time: 16:30 – 18:00 (UTC+8)
Click here to register and save your spot
Aquatic foods – the diverse animals, plants, and microorganisms grown and harvested from water – are central to the necessary and effective transformation of our food systems needed to feed the world. Often overlooked in food system agendas, this session anchors aquatic food science and innovation across the Summit's Action Tracks, traveling through the evolution in the production, processing, trade and consumption patterns of aquatic foods in the recent past, and exploring holistic approaches to provide improved sustainable healthy diets and economic opportunities for the world's most vulnerable.
In this UN Food Systems Summit Science Day event hosted by WorldFish and FAO, multidisciplinary researchers from a diversity of regions will share how aquatic food systems' innovations create game-changing solutions to achieve the 2030 agenda. Discussions will identify actions needed to drive multi-stakeholder collaborations for aquatic food systems transformations to nourish all people and the planet.
Opening Remarks:
Manuel  Barange, Director of the Fisheries and Aquaculture Policy and Resources Division FAO
Research presentation: The role of aquatic foods in sustainable healthy diets for all, UN Nutrition 
Shakuntala Thilsted, Global Lead for Nutrition and Public Health WorldFish & Vice Chair Action Track 4: Advance Equitable Livelihoods
Molly Ahern, Food Security and Nutrition Specialist, FAO Fisheries
Research presentation: Harnessing aquaculture for healthy diets, GLOPAN 
Global Panel on Agriculture and Food Systems for Nutrition (GLOPAN)
Panelists in Panel 2:
Tinna Manani, Lilongwe University of Agriculture and Natural Resources, Lilongwe (LUANAR)
Mrityunjoy Kunda, Sylhet Agricultural University, Bangladesh
Ravishankar C.N., Director of ICAR-CIFT, ICAR-Central Institute of Fisheries Technology, Indian Council of Agricultural Research
Caribbean Regional Fisheries Mechanism (CRFM)
Concluding Remarks:
Gareth Johnstone, Director General, WorldFish
Stay up to date with the latest information on the event agenda and speaker lineup by following FAOFish, WorldFish and hashtag #aquaticfoods on Twitter.
We look forward to your active participation.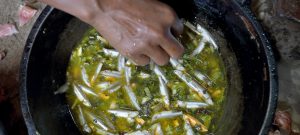 Image credit: A woman cooking mola and orange sweet potato curry in her kitchen in Jessore, Bangladesh. Photo by M. Yousuf Tushar.