Type of Dialogue
Independent
Language of Dialogue Event
English and French
Geographical focus
Cameroon
Format
In-person
Please review the details below for registration information if available or contact the Convenor if you would like to attend.
Curator
Foretia Divine,CSAYN
Description
L'alimentation représente un grand enjeu dans nos vies ; elle est au centre de nos décisions et au cœur de nos actions. Nous voulons comprendre en quoi la chaine alimentaire peut représenter des chalenges et opportunités.
Notre conférence a pour but d'échanger sur les différents maillons de la chaine de valeur Food afin de comprendre les chalenges et de déceler les opportunités. Nous souhaitons aisni dialoguer sur les chalenges et opportunités de la chaine de valeur des systèmes alimentaires dans notre contexte socioéconomique au Cameroun.
Programme
Arrivée et enregistrement
Introduction et présentation des participants
Qu'est-ce que « Food Systems Summit Dialogue » (FSSD) – (Vidéo Dr David)
Début du Dialogue
Définition des Systèmes Alimentaires
Ouverture des Discussions
Conclusion (restitution des informations)
Recommandations
Fermeture des contributions
Closing remarques
Acknowledgement
Ntiokam Divine, Climate Smart Agriculture Youth Network.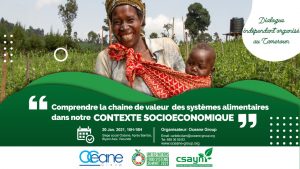 Image credit: Galilée Zoa