Type of Dialogue
Independent
Convened by
Soffeu Mirabelle , Giving Hope to the Hopeless Association
Language of Dialogue Event
English and French
Geographical focus
Cameroon
Format
In-person
Please review the details below for registration information if available or contact the Convenor if you would like to attend.
Curator
Alda Ajaa, Giving Hope to the Hopeless Association
Description
Summary
According to UN report dated 23rd July 2020, almost 690 million people in the world were undernourished in 2019 that is 8.9% of the world population and a forecast of 840 million by 2030. This means without efforts to reform global food systems, the target of zero hunger by 2030 will be missed.
The rural women are estimated to supply 90% of subsistence food in Cameroon and   as labourers for hire and private work on the family farm, women play major roles in food system value chain. Despite their key role as food producers and providers, women's contribution to household food security is impaired. Very often, the work of women in agriculture is not given proper value as it is often considered the natural extension of mothers' work.
Our conference aims to discuss the roles women play in the food system value chain, challenges they face and how the food systems can be inclusive. If we must achieve SDG 2, women would have to be considered as actors and not helpers in the food system process.
Agenda
Reception and Installation of participants
Introduction of participants
Brief rundown of the day's activities
Beginning of the Dialogue
Brief presentation on the food system
Discussions
Conclusion
Recommandation & Conclusion
Acknowledgement
Foretia Divine (CSAYN), Nfor Terence ( Earthpays) and Tiam Carletto ( OCEANE Group).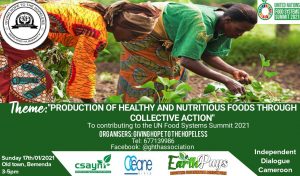 Image credit: Foretia Divine (CSAYN)