Official Dialogue Feedback to the United Nations 2021 Food Systems Summit
Last updated:
Download PDF
Type of Dialogue
Member State
Convened by
Ministro Carlos Leal Telleria, Ministerio del Poder Popular para la Alimentación
Language of Dialogue Event
Español
City
Caracas, Distrito Capital, Venezuela
Geographical focus
Venezuela, Bolivarian Republic of
Format
Online
Please review the details below for registration information if available or contact the Convenor if you would like to attend.
Curator
Licdo. Pedro Meléndez, Fundación de Alimentos Estratégicos (Fundaproal)
Description
El objetivo de este Diálogo es recoger y consolidar los aportes para la creación de sistemas alimentarios con enfoque de cosmovisión y nuevas geometrías de poder equitativo e incluyente, provenientes de los actores claves empoderados representado por: Mujeres, jóvenes, población indígenas y organizaciones comunales, como bastión de la lucha contra las desigualdades, tomando así la sabiduría, conocimiento y las acciones de resiliencia ejecutadas por estos actores claves en el contexto de bloqueo económico y de pandemia covid19 que han representado un gran desafío para defender el derecho a la alimentación. Entre el temario: Voz de la Juventud en la Transformación de los Sistemas Alimentarios del mundo, Igualdad de Género en los Sistemas Alimentarios, Cosmovisión de los Pueblos Indígenas y Afrodescendientes en los Sistemas Alimentarios, y Comuneros y Comuneras. Nueva Geometría para la alimentación.
Acknowledgement
Agradecemos a la plataforma institucional, organizaciones comunitarias aliadas y a cada Ministerio participante.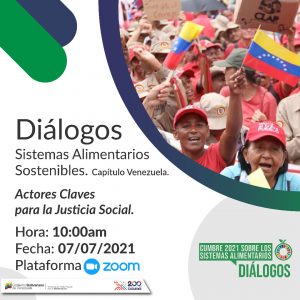 Image credit: MINPPAL-INN