Official Dialogue Feedback to the United Nations 2021 Food Systems Summit
Last updated:
Download PDF
Type of Dialogue
Member State
Convened by
Ministro Carlos Leal Telleria, Ministerio del Poder Popular para la Alimentación
Language of Dialogue Event
Español
City
Caracas, Distrito Capital, Venezuela
Geographical focus
Venezuela, Bolivarian Republic of
Format
Online
Please review the details below for registration information if available or contact the Convenor if you would like to attend.
Curator
Licda. Marilyn Di Luca, Instituto Nacional de Nutrición
Description
En este Diálogo se busca que diversos sectores y actores impulsen propuestas, acciones y desafíos para un Sistema Alimentario sostenible, basado en la nueva cultura alimentaria nutricional y el cambio de patrón de consumo para una alimentación sana, segura, sabrosa y soberana, fortaleciendo las políticas de producción para los rubros autóctonos, la normas y la legislación que rige la cadena agroalimentaria, así como la información, educación y comunicación en materia alimentaria y nutricional. Temas a desarrollar: Hogares de la Patria motor de la nueva cultura alimentaria, Educación como núcleo para el cambio de patrón de consumo, Enfoque de Salud en el Sistema Alimentario y Comunicación para la democratización de la Conciencia alimentaria, Movimiento de consumidores y consumidoras conscientes.
Acknowledgement
Agradecemos a la plataforma institucional, organizaciones comunitarias aliadas y a cada Ministerio participante.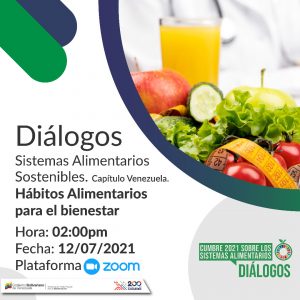 Image credit: MINPPAL-INN