Official Dialogue Feedback to the United Nations 2021 Food Systems Summit
Last updated:
Download PDF
Type of Dialogue
Independent
Convened by
Ing. Alexis Mendoza (ASOAP)
Language of Dialogue Event
Español
City
Guanare, Portuguesa, Venezuela
Geographical focus
Argentina, Belize, Bolivia (Plurinational State of), Chile, Colombia, Costa Rica, Cuba, Dominican Republic, Ecuador, El Salvador, Equatorial Guinea, Guatemala, Honduras, Mexico, Nicaragua, Panama, Paraguay, Peru, Uruguay, Venezuela, Bolivarian Republic of
Format
Online
Please review the details below for registration information if available or contact the Convenor if you would like to attend.
Curator
Lcdo. Rhafael Lamas (ASOAP)
Description
Socioimplementador: Es la entidad que se encargara de administrar los fondos para las compras publicas a la Agricultura Familiar (AF). Esta entidad tendrá la capacidad de escalar el modelo de compra directa a la AF para
abastecer las escuelas en el caso del proyecto Proact 1.
Ventajas del Modelo:
1.Dinamización de la Economía Familiar Local.
2. Estimulación de la organización local de agricultores familiares.
3. Reducción en los costos de alimentos.
4. Alimentos más frescos, más diversificados y adaptados al trompo
alimentario local.
5. Mayor articulación e integración de las Instituciones. (MPPE, INN,
CNAE, Gobernación)
6. Mayor participación de las organizaciones comunitarias locales.
7. Promueve las interrelaciones entre productores locales,
representantes, unidades educativas y autoridades locales.
Acknowledgement
Instituto Universitario Latinoamericano de Agroecología, IMUCRESPCA, INN, ASOAP.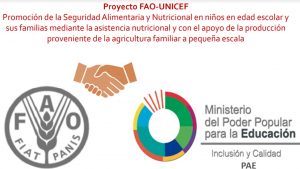 Image credit: ASOAP 2020