Type of Dialogue
Member State
Convened by
Convenor : Mme Julie K. Tshilombo, Présidence RD Congo
Language of Dialogue Event
Français
Geographical focus
Democratic Republic of the Congo
Format
Online
Please review the details below for registration information if available or contact the Convenor if you would like to attend.
Curator
Clément Tenge Tenge, Ministère du Développement rural RD Congo
Description
Participer à la réunion Zoom
Consommation alimentaire
Comment garantir l'accès à une alimentation équilibrée, suffisante et saine à l'ensemble des populations pour un développement durable de la RDC ?
Accessibilité économique aux aliments ;
Sécurité sanitaire des aliments ;
Ingestion des aliments ;
Habitudes alimentaires ;
Alimentation scolaire.
Matières résiduelles
Comment gérer efficacement les déchets en vue de contribuer à la préservation des écosystèmes et de l'environnement pour une exploitation durable ?
Pertes post-récolte ;
Pertes post-capture ;
Pertes post-abattage ;
Valorisation des déchets des produits agroalimentaires.
Participer à la réunion Zoom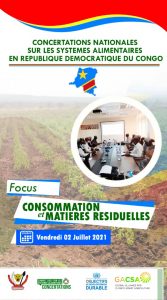 Image credit: FAO, PAM, FIDA, AUDA/NEPAD, GACSA