Official Dialogue Feedback to the United Nations 2021 Food Systems Summit
Last updated:
Download PDF
Type of Dialogue
Independent
Convened by
1)Research and Innovation Circle of Hyderabad(RICH) (Govt.of Telangana) 2) International Crops Research Institute for the Semi Arid Tropics(ICRISAT)
Language of Dialogue Event
English
City
Hyderabad, Telangana, India
Format
Online
Please review the details below for registration information if available or contact the Convenor if you would like to attend.
Description
Dry lands contribute 42% of the total food grain production of the country, out of
the 97 million farm holdings in India, about 76% come under dry land farming. Despite significant
improvements in the agriculture sector, as a country we struggle to be complacent with our dryland areas. In
Telangana, about 63% of the crops grown is rain-fed, making dryland agriculture a prime focus for the
Government. Dryland farmers suffer from low yields and crop losses due to poor resilience to climate
change, which has drastically affected this food system in the region.
Through this event RICH aims to promote an extensive community dialogue and empower collaborative
change to transform the way the world produces, consumes and thinks about dryland food systems.
Acknowledgement
Office of the Principal Scientific Adviser to the Government of India, International Crops Research Institute for the Semi Arid Tropics(ICRISAT),HarvestPlus, World Economic Forum, UNDP, Indian Institute of Millet Research(IIMR), Advanta Seeds, ITC Ltd, Aranya Agricultral Alternatives.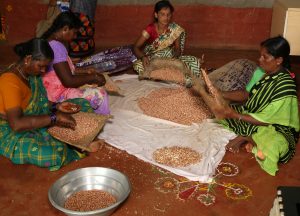 Image credit: J.Krishna, Raasta Studios, Hyderabad