Official Dialogue Feedback to the United Nations 2021 Food Systems Summit
Last updated:
Download PDF
Type of Dialogue
Independent
Convened by
Chandapiwa Olesego Sisila, Piera Mattioli, Patricia Lay, Janica Solis, Faustina Ningá, Janina Peter
Language of Dialogue Event
English
City
Addis Ababa, Ethiopia
Geographical focus
Ethiopia
Format
Online
Please review the details below for registration information if available or contact the Convenor if you would like to attend.
Description
To understand the relationship between poverty and malnutrition in Ethiopia, we are hosting an 'Independent Dialogue' on "How To Unlock Positive Change In Ethiopia's Food System".
With 13 Million children under the age of five living in Ethiopia1, one in twenty of these children dies before even reaching this age2, meaning 650.000 children don't get to celebrate their fifth birthday. Reasons range from malnutrition, poor sanitation and hygiene to contaminated water, amongst others. Following the Acumen Academy's Systems Practice course for nine weeks, our team developed a simplified systems map to grasp and visualize the interconnections of different challenges: poverty in rural, local communities, education, malnutrition in children, agriculture and the role of governments and big corporates, all being part of the Ethiopian food system. 
Before sharing our findings with the UNFSS, this open Summit Dialogue shall serve to validate the map and build on it by bringing in diverse ideas and perspectives from international stakeholders, like:
Next-generation innovators and systems thinkers, entrepreneurs, farmers, scientists, public and private sector representatives, civil society representatives, activists, financial sector representatives, chefs, as well as individuals outside of the food and agriculture industry. 
We are hereby inviting you to participate in this Dialogue, taking place online Friday July 30th 13:30 – 15:30h CET. Registration is limited, so if you wish to join, please register here as soon as possible. As breakout rooms will be pre-assigned, the last day for registration will be Wednesday July 28th. If after your registration you decide not to participate in this event anymore, please let us know so we may offer your spot to other invitees.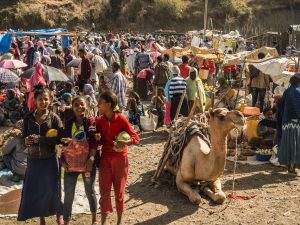 Image credit: Lesly Derkson