Official Dialogue Feedback to the United Nations 2021 Food Systems Summit
Last updated:
Download PDF
Type of Dialogue
Independent
Convened by
Mr. Ghanshyam Bhattarai, Thought For Food Foundation
Language of Dialogue Event
English and Nepali (Mixed)
Format
Online
Please review the details below for registration information if available or contact the Convenor if you would like to attend.
Curator
Mr. Ujjwal Shrestha
Description
The twin crises of COVID19 and Climate Change mean that Food Systems are on the global agenda like never before. We have an unprecedented opportunity for positive transformative change! We're excited to announce that we're hosting a Summit Dialogue to inform the world's first-ever Food Systems Summit in September. We're looking for participants from a diverse array of backgrounds and perspectives. Everyone is invited to take part. Click below for details: https://bit.ly/fssdialogue-register

We hope you'll join us!

Acknowledgement
Thought For Food Foundation, YOUNGO, MGCY, Powershift Nepal, Taja Agro, Mr. Utsav Soni, Ms. Pramisha Thapathaliya.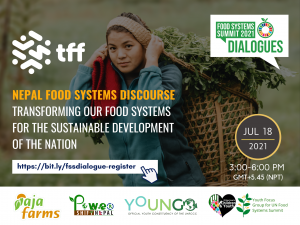 Image credit: Canva