Type of Dialogue
Independent
Convened by
Carla Caballeros, Red de Champions
Language of Dialogue Event
Español y Q'eqchi' idioma maya de Guatemala
Geographical focus
Guatemala
Format
In-person
Please review the details below for registration information if available or contact the Convenor if you would like to attend.
Curator
Cámara del Agro de Guatemala
Description
Cámara del Agro con el apoyo de NaturAceites, la Gremial de Palmicultores de Guatemala y la Asociación del Gremio Químico Agrícola de Guatemala con el objeto de visibilizar el proceso de la Cumbre, así como intercambiar información sobre las acciones que las diferentes instituciones, llevaremos a cabo el diálogo "Transformando las economías agrícolas y rurales".
Con el objeto de impulsar una participación efectiva y oportuna de la región de Guatemala en el proceso de preparación de la Cumbre sobre Sistemas Alimentarios , prevista a realizarse en septiembre de 2021,
La vía de acción No. 4 busca promover medios de vida equitativos, por lo que se trabajará para contribuir a la eliminación de la pobreza mediante la promoción del empleo pleno y productivo y el trabajo decente para todos los agentes de la cadena de valor de los alimentos, la reducción de los riesgos para los más pobres del mundo, el fomento del emprendimiento y la lucha contra las desigualdades en el acceso a los recursos y la distribución del valor. La Vía de Acción 4 mejorará la resiliencia mediante la protección social y tratará de garantizar que los sistemas alimentarios "no dejen a nadie atrás."
Acknowledgement
NATURACEITES, AGREQUIMA, GREPALMA.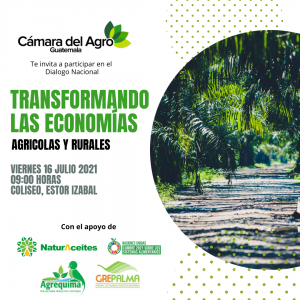 Image credit: Cámara del Agro